2021
---
April, 2021
2020
---
December, 2020
2019
---
December, 2019
2018
---
December, 2018
2017
---
December, 2017
2016
---
December, 2016
2015
---
December, 2015
2014
---
December, 2014
2013
---
December, 2013
2012
---
December, 2012
2011
---
December, 2011
2010
---
December, 2010
2009
---
December, 2009
2008
---
December, 2008
2007
---
December, 2007
2006
---
December, 2006
2005
---
December, 2005
2004
---
December, 2004
2003
---
December, 2003
2002
---
December, 2002
2001
---
December, 2001
2000
---
December, 2000
1999
---
December, 1999



Pre-News Database

---
September
1st - 14th / 19th - 25th


---
August
1st - 15th / 21st - 30th


---
July
1st - 14th / 21st - 31st


---
June
1st - 15th / 16th - 27th


---
May
1st - 15th / 16th - 30th


---
April
1st - 15th / 16th - 28th


---
March
1st - 15th / 16th - 31st


---
February
3rd - 11th / 12th - 28th



Travel to: Go Back / T-tc.com (home)
Check out the Dark Mod Website for updated news on the latest features. Also, don't miss the video of clouds covering the moon and affecting the light gem. This project is really progressing!






Thief Series Music - An Update - 8:22:57 PM - Dan
Over the past year, a great deal of progress has been made both int he realm of unofficial soundtracks - prying the music out of the games and composing the segments into tracks or removing the voiceovers from the videos, and original music inspired by the games. Finally, we have a complete comprehensive set of the music that has been released recently, permanently archived on The Circle's music page.


Thief: The Dark Project Gold Soundtrack, created by Child of Karras
∑ 1 - Vid_B01.mp3 - "I was a Kid Running Messages"
∑ 2 - Vid_Intro.mp3 - "Intro - Thief: The Dark Project"
∑ 3 - M02_Bafford.mp3 - "Lord Bafford's Manor"
∑ 4 - Vid_B03.mp3 - "From the Hammer Book of Tenets"
∑ 5 - M03_Prison.mp3 - "Break from Cragscleft Prison"
∑ 6 - M04_Catacombs.mp3 - "Down into the Bonehoard"
∑ 7 - M05_Assasins.mp3 - "Assassins"
∑ 8 - M15_ThievesGuild.mp3 - "The Downwind Thieves' Guild"
∑ 9 - Vid_B06.mp3 - "A Woman named Viktoria"
∑ 10 - M06_TheSword.mp3 - "The Sword"
∑ 11 - M07_HauntedCathedral.mp3 - "The Haunted Cathedral"
∑ 12 - M16_MaggesTowers.mp3 - "The Mage Towers"
∑ 13 - M09_LostCity.mp3 - "The Lost City"
∑ 14 - M17_SongOfTheCaverns.mp3 - "The Song of the Caverns"
∑ 15 - M10_Undercover.mp3 - "Undercover"
∑ 16 - Vid_B11.mp3 - "The Eye"
∑ 17 - M11_BackToCathedral.mp3 - "Return to the Cathedral"
∑ 18 - M12_Escape.mp3 - "Escape!"
∑ 19 - Vid_B13.mp3 - "The Trickster is real after all"
∑ 20 - M13_StrangeBedfellows.mp3 - "Strange Bedfellows"
∑ 21 - M14_MawOfChaos.mp3 - "Into the Maw of Chaos"
∑ 22 - Vid_CS14.mp3 - "I just Saved the World"
∑ 23 - Vid_Credits.mp3 - "Credits"
∑ Thief: The Dark Project Gold Soundtrack - entire collection in one file

Thief II Soundtrack, work in progress, by Aja
∑ 1 - Running Interference
∑ 2 - Shipping and Receiving
∑ 3 - Framed
∑ 4 - Eavesdropping
∑ 5 - Trail of Blood

Shadow Sneaker; Original Tracks
∑ Shadow Sneaker - Crypts.mp3
∑ Shadow Sneaker - Dreams of Dead Thoughts.mp3
∑ Shadow Sneaker - Mechanist Massacre.mp3
∑ Shadow Sneaker - Midnight Whispered My Name.mp3
∑ Shadow Sneaker - Nowhere.mp3
∑ Shadow Sneaker - Twilight Trickster.mp3

Xenith; Original Tracks
∑ Xenith - Waxy Tune DnB.mp3
∑ Xenith - Child_of Endeavour.mp3

Other Fan Fixes
∑ Child of Karras - Shipping and Receiving International.mp3






Short Tale, Bloodline, by Aidan - 4:18:48 PM - Dan
Our eighty-second short story has been added to The Circle's library of tales, entitled Bloodline, by Aidan. He has also posted this work on our forum, here. He promises more to come, so good luck with your writing, Aidan!
It all started when Gareth went up into the attic like most inquisitive young teenagers do. Gareth initially wanted to see if there was anything of worth in there to sell for a quick buck, when he discovered a trunk full of books. Naturally, he opened one up, attentively, because of its age, and paged through, discovering that the writings in it were much older than he had thought, judging by the cover.

He was absolutely mesmerized as he kept on reading through the day, picking up one book after the other, scarcely moving, only to get up briefly to go to the bathroom or to eat and drink.

He continued the pattern for weeks; going to school and sitting through boring history lectures and pointless mathematics classes, all the while, waiting to head home, and dive straight back into the literary world he had opened up. Before he even changed out of his uniform, he would go back up to his chair in the corner of the dusty, cramped attic and flip through the tomes. He probed them, discovering more than what he would have ever have learned in school.

As he paged through, he started to discover some unusual similarities in them all, and he spotted the fact that the names changed, but the surnames stayed the same: Hightowne. These werenít just any books; they belonged to his family. They were their journals.

All throughout them though, he hadnít seen his dadís name at all.





Interlude Chapter 5 - Revenge - 4:07:44 PM - Dan
After four years, the Thief fanfiction novel Interlude by Caer has been given a 5th chapter, entitled Revenge. It's not over yet however, as the ending of chapter 5 indicates that a sixth is in the works.
'I'll do my best to behave according to the regulations.'

Father Jacow looked at me from beneath his bushy eyebrows with no trust at all, as if he thought I made fun of him.

'Good.' He finally turned around to get to the lift allocated in the corner of the lobby and lead me to the rooms for guests.

Lobby was huge, almost three floors high, with double row of banks in front of some-thing that in ordinary chapels would be an altar. However, the lobby didn't have any religious emblems and the only thing that could be considered part of the doctrine was a big portrait of Karras hanging on a wall opposite the entrance. The lobby must have served as a place of secular meetings, rather than of religious services. The chapel was supposedly somewhere else.

The man closed safety-rails behind me and hit the button of the lift with an air of a man aware of his mission. The lift swiftly begun to move up but halfway to the second floor I heard some noise, raised voices and somebody's hurried footsteps. A commotion upstairs wasn't a normal thing: there was a man lying on the floor of a long corridor, with a puddle of blood growing under him. The second person in a robe stained with blood was just lifted by two Mechanists, while a man in a long violet tunic was bending over a strange machinery on the left side of the corridor. Suddenly father Jacow stopped the lift.

'Please, stay here,' he gave me brief look, quickly opened the rails and went closer to the few Mechanists who gathered around the person in the violet robe.

'What happened here?'

'A watcher took brother Dominic for an intruder and attacked him,' one of the breth-ren who was holding the injured man looked hatefully at the Violet Robe. 'Before brother Mason managed to switch it off, brother Dominic had died and brother Mason had been badly hurt too.'

'Get him to the ambulatory.' Brother Mason was hanging like a rag doll in the arms of brethren holding him. 'Quickly!'

Disregarding the instructions father Jacow gave me, I left the lift and came closer, making way for the two brethren who were carrying the injured man. The thing responsible for the mess, which Violet Robe was leaning over, was a strangely looking machine in the shape of a human head but twice as big. It was located on a pedestal resembling a tripod. There was another face hanging over it, fixed to the ceiling. Instead of one eye it had a light-blue lens that was gleaming slightly and there was a little lamp embedded in the machine's 'neck'.

'I said they weren't ready yet!' the Violet Robe abruptly turned to father Jacow and I felt an unpleasant squeeze in my stomach when I saw his face: it was Friend Coltus. 'I don't understand why you insisted on installing them. I warned that they had to be tested.'

'There is no need to raise your voice, friend,' father Jacow raised his hand. 'Everybody knows it wasn't your fault.'

'I will not tolerate slip-ups. More people could've died there!' He pointed at the Mechanists who were standing around him. Then he met my gaze. Recognition flashed in his eyes. 'What is she doing here?'

I instantly moved my hand, seemingly to comb back my hair, and at the same time I put my fingers to a gesture. A faint smell of Tatiana's flowers spread in the air. Damn, if he sensed my intentions...

'Your words hurt me, friend. Do you not remember our last conversation and your assurance that you would support my request that I be permitted in the Angelwatch?'

The man's head drooped and his gaze became dull.

'Right. Now I remember,' he answered unnaturally slowly. The spell could not fully affect him, since Friend Coltus was not an ordinary guard and his strong will was strengthened by religious service, although he did not have enough strength to resist it entirely. I was only afraid that someone could just now...

'Then you also remember why she is in here,' father Jacow looked at me, as if he wanted to find a confirmation or denial written on my face but obviously he found nothing. He turned to Coltus. 'I hope that you will show miss Ryen the workshops, as she is interested in modern mechanics.'

The man didn't answer, his gaze focused on one point, as if he was deep in thoughts. Finally he moved along the corridor and spoke, vaguely pointing the machines with his hand.

'I'll send someone to dismantle it.'

'Friend Coltus!' Jacow cried but the man didn't respond, still walking down the corridor and vanishing around the corner.

For a long moment Father was watching the place where Coltus had disappeared. His face wore a blank expression, as if the sudden change in behaviour of the chief inventor did not surprise him a bit. After a while he nodded to the Mechanists to clean up the mess. Only then he gave me a brief look and turned to the lift.

'Follow me, please. Your room is on the fourth floor.'





Massive Fan Art Update - 3:24:39 PM - Dan
We have a very long overdue and thus massive update to our fan art gallery. Joining us are the artists Captain Spandex, David Grier, Dimwalker with three images, Dominus, Keeper Anakara, Kin with seven images, Odora, Phomax, Scourge, Thesntnl, and Vigil. First Keeper has added a new image to his gallery, and redface is back with four new images. A huge thanks and admiration goes to all artists, and a welcome to The Circle.
captainspandex:
new
davidgrier:
new
dimwalker:
new
dominus:
new
firstkeeper:
updated

keeperanakara:
new
kin:
new
kinnas:
new
odora:
new
phomax:
new

redface:
updated
scourge:
new
thesntnl:
new
vigil:
new





Download Links Repaired, New Artwork - 1:44:52 PM - Dan
The final bit of repairs from the recent server crash has been finished, with all download links finally updated to the new subdomain, downloads.ttlg.com. The Thief 3 art section and the music sections, which were the worst affected, are now in working order.

Additionally, I took this work as a chance to add four bits of art that had been missing from our galleries. The first, a painting of Garrett scaling a Hammerite tower, is known from the original Thief 1 trapezoid box inner flap. This image has also been made into a widescreen and standard desktop background. The second is an image we're all familiar with - the CD check splash screen that shows whenever you run Thief 2, but this version makes that one look like an incomplete thumbnail. Last, two images from Thief Deadly Shadows depicting a pair of the more horrific adversaries.



Wednesday, August 27, 2008


Mystic Gems II: Heart of Bohn Released! - 6:55:35 PM - pavlovscat
New Mission
Released August 24, 2008 - Mystic Gems II: Heart of Bohn v1.1 a mission for T2 by Wille
Updated to version 1.1 August 26th.
The Mission:
Garrett has acquired the Mystic's Soul. Now he needs to find the Mystic's Heart. He knows it is located in the Baronial Museum in the city of Bohn. Museums are usually heavily guarded, but there is also lots of valuable loot to make breaking in really worth while. He needs to get in, find the Mystic's Heart, get some loot, see if he can find information about these two stones, and make his escape before daylight. Just a routine night for a Master Thief like Garrett.
Impressions:
Unlucky Soul, the first Mystic Gems mission, was a very good mission, so I had high expectations for Heart of Bohn. I was not disappointed. I completely enjoyed this level. The museum is a really cool place to explore. The attention to detail in creating this mission was obvious.
Thankfully, there was a compass and map because getting lost was easy, especially in the sewers. But, eventually, I figured out where things were. The mission had some challenging puzzles, but there were ample clues to solve them. Even though I spent a lot of time going back & forth through the museum (a lot of that was due to my atrocious sense of direction!), but it never felt tedious or boring. There is no ghost requirement, but this mission looks to be a good one for ghosting as there are many shadowy corners and other areas to hide. Heart of Bohn was a lot of fun, and I will certainly be replaying on harder difficulty to look for the things I missed the fist time.
Stats:
My first time through I played on Easy. I finished in 01:51:36 with 3210/3600 loot, 8/8 pickpockets and 4/5 secrets.
I recommend playing Mystic Gems I: Unlucky Soul before you play this mission. Need some help? Head over to the Forum Discussion Thread for help or to let Wille know what you think.






Pirates Ahoy! Campaign Released - 9:25:20 PM - pavlovscat
New Mission Campaign
Released August 16, 2008 - Pirates Ahoy! a four mission campaign for T2 by Christine & Greenhorn
Impressions:
This campaign is a feast for the eyes. The scenery is beautiful. You begin in a classic Christine city with lots of yummy food and gorgeous buildings and plants. Then you sail to a tropical island complete with tropical plants and island people. You land next on a bleak & terrible, yet strangely pretty island. Your final destination is a beautiful tropical paradise complete with lagoons. You will find many new items and weapons designed by Greenhorn. Together, Christine and Greenhorn have made a stunning display of what Thief can look like. The game play is solid but not difficult; however, you will spend a lot of time just looking around and enjoying the view.
Cast Off
The Mission:
Garrett has had a run of bad luck, and the city's finest are on his tail. He barely managed to escape and had to leave behind all his gear. After hiding out for the day, it is time to get some gear, grab some loot and find a way out of the City. During his raid at Lord Carlson's, he found notes about a treasure map. While he's looting, he'll need to make a visit to the bookseller's and get that map. It looks like it's time for a sea voyage, so he will need lots of food, too.
Stats:
I finished the mission on Lubber in 01:29:15 minutes with 4617/5524 loot, 1/2 secrets, and 3 bonus objectives.
Screenshots:







Pirate's Island
The Mission:
Garrett manages to sneak onto the Dark Sparrow with the map. It appears Captain Hunt is also looking for a treasure. Lord Carlson is supposed to get the map, but there is something else needed to get the treasure. Garrett needs to snoop around and find the captain's notes about this treasure. First he needs to find some better weapons in case a pirate catches him.
Stats:
I finished the mission on Lubber in 45:01 with 1662/2837 loot, 0/1 secrets.
Screenshots:







Ghost Ship
The Mission:
Garrett managed to escape Pirate's Island. He found the Cursed Island. It is a bleak, horrible place filled with bizzare and deadly creatures. Garrett must locate the wreck of the Black Raven and find the map and the stone that will open the treasure cave. Then, he must make it back to his raft and leave the island. Stats:
I finished the mission on Lubber in 59:45 with 1415/2080 loot.
Screenshots:







Treasure Island
The Mission:
Garrett has the map and the stone. Treasure Island is a tropical paradise. This should be a pleasant stroll on a beautiful day. This place looks too peaceful to hold any danger...
Stats:
I finished the mission on Lubber in 28:16 with 2605/3710 loot.
Screenshots:







Check out the Forum Discussion Thread to see what other taffers are saying about Pirates Ahoy!




Saturday, August 23, 2008


Lord Raven's Mansion & Avoiding Mistrust - 11:50:11 PM - pavlovscat
Two T3 Missions
Updated mission released August 16, 2008 - Lord Raven's Mansion v1.2.2 a mission for T3 by DarkDragon
The Mission:
Lord Raven is new in town, and he's thrown a dinner party. The City's richest people are in attendance. Garrett managed to sneak in and hide in the cellar. Now it's time to collect some loot including three valuable statues that Lord Raven will likely have on display.
Impressions:
Lord Raven's Mansion was originally released October 09, 2005. DarkDragon updated the mission and released the new version along with the sequel. This is a straight-forward mansion mission. It is not a difficult mission but still entertaining.
Problems:
The save function does not work on Normal difficulty.
Stats:
I finished the mission on Hard in 39 minutes with 94% of the loot.
Screenshots:







New mission released August 16, 2008 - Avoiding Mistrust v1.1 a mission for T3 by DarkDragon
The Mission:
This is the sequel to Lord Raven's Mansion. Garrett's previous adventure at Lord Raven's mansion seems to have upset things. He has scheduled a meeting with the Captain of the City Watch at his newly constructed mansion. They are obviously up to something, so Garrett needs to get into the mansion and find out what is being planned.
Impressions:
This mansion mission shows DarkDragon's growth as a mission designer. There are many more options in game play, and the mansion itself is much more interesting. I had a lot of fun looting this place. The guards were more difficult to avoid, and the mission was more challenging than its predecessor. Overall, this is a solid mission with good game play.
Problems:
The save function does not work on Normal difficulty.
Stats:
I finished the mission on Hard in 94 minutes with 94% of the loot.
Screenshots:







Do you have any questions or comments about these two missions? Head over to the Forum Discussion Thread.




Garrett in the Future?
For those of us who don't spend much time at the Editor's Guild, I wanted to draw attention to Sliptip's work on Strain7, the third episode in the Kill Factory Series.

What? You don't think this looks like Thief? Well check out the Forum Discussion Thread and find out the truth. If you like the futuristic look of this mission in progress and want to play something different than the average mission, then play Sliptip's first two missions. Kill Factory is the original mission which was made as an entry for the Total Crap FM Contest. Kill Factory II: Escape from the Planet of Robots is a futuristic mission full of bad tempered robots looking for you.

Enjoy!






Waxy Tune FanMix by Xenith Available! - 2:05:26 PM - pavlovscat
Thief-Inspired Fan Mix by Xenith
Xenith has used Blackheart's victrola sequence as the basis for a very enjoyable techno remix called Waxy Tune. This was always one of my favorite tunes from Thief. Now, it has a great 4 min+ remix. Check out Xenith's Newgrounds Page for other great tunes. Xenith would love your feedback so post your impressions at the Forum Discussion Thread.






A New Place for Ghosts Released! - 9:43:12 PM - pavlovscat
New Mission
Released August 16, 2008 - A New Place for Ghosts a mission for T2 by cardia1
Updated: Updated version was released August 18, 2008.
The Mission:
Garrett has been hired by Dia to recover some items for her family. The family mansion is populated by a whole horde of ghosts. Dia needs Garrett to recover these items since he is experienced in dealing with ghosts. Garrett has the gate key and his instructions. Now it's time to explore this New Place for Ghosts.
Impressions:
The garden and mansion are both very beautifully made. This mission is a loot hunt with a few keys to find. I enjoyed this double-mission immensely. There is a lot of hard to find loot, and the place is just gorgeous.
Stats:
I played on Easy. I finished the Garden in 47:40 with 5075/5445 loot and finished the Mansion in 43:29 with 4392/5042.
Can't find that last key? Check out the Forum Discussion Thread. This mission is dedicated to Dia.




The Circle's FM News update, based on the latest update from the upcoming missions list.

To begin with the authors who make an appearance in the list. These are Christine, Greenhorn and Snake.

Christine, a long-time dromeder with many missions behind her name, returns with a project involving pirates, called "Pirates Ahoy!". It is developed in cooperation with Greenhorn. Christine worked with dromEd, Greenhorn made the custom objects and AI's and the story is written by both. The result will not be a single mission, but a 4 mission campaign. The project is as good as finished so expect a release soon. The info is at place 13 in the list.

Third author is Snake, who is working on his first thief mission. It was a long time uncertain wether or not this project would be completed, but now the author seems determined to finish it. Except this mansion mission to be released later this year. Info at place 65.

4 authors have their info removed because the mission they worked on has been released. Digital Nightfall & Team (with Mission X), intruder (with Keeper Investigations), Theker (with The Last Hope) and Turcaill (with Evirath's Misery). Special mention goes to Mission X, the second part in The Circle of Stone and Shadow series and sequel to Gathering at the Inn. After years in the making this project is finally released and the result is well worth the wait! You can grab the mission, as well as the others, from the links found in the threads on the forum.

Nightstroll's mission "First Snow" is also removed from the list, but for another reason. The author lost most of his work and has to restart from scratch, which makes a release this year unlikely.

Several authors posted new screenshots of their work in progress. CrackedGear with new pics of his T3 mission Silence Part 2, HipBreaker (Eclipsed Resonance) and DrK (Rocksbourg Part 4) with ones of their Thief 2 missions in progress, and darthsLair with screens of his upcoming Thief Gold mission (The Phoenix hath Risen).

Finally, several short news items:

Just Friends 2 by bassmanret is still being worked on. The first mission is currently under beta testing, and the author hopes to release both missions before the end of the year.
Brynolf's first fan mission, called Redemption, is nearly ready and currently being tested.
darthsLair revealed the story he has in mind for his upcoming mission, which is near beta stage.
Ermana is making good progress with her Thief 2 mission in progress (Veranda) and beta testing should begin shortly.
The jailbreak mission which john9818a is working on is close to release. Currently the author is looking for alpha testers.
Krush the Second resumed work on "Amoral Dilemma" and posted several new screenshots.
A message in the thread "Having a Ball" reveals that madwolf will most likely never finish his unreleased missions.
The Long Taff Goodbye, nicked's latest mission, is ready and currently under beta testing.
Wille's Mystic Gems Part 2 is currently under beta and should be released soon.
Saturnine stopped work on his horror contest mission (Rose Cottage) and put it up for adoption.

For the full list of changes, see this message in the FM thread.

Until next update,

The Phantom






CoSaS 2: Mission X Released!! - 1:51:24 PM - pavlovscat
New Mission
Released August 15, 2008 - Circle of Stone and Shadow 2: Mission X, a mission for T2 by Team CoSaS (Anarchic Fox, Finial, Yametha, R Soul & Digital Nightfall)
The Mission:
Dante has been an agent of Master Nightfall's for nearly a year. He has gained much experience, but this will be his first mission as part of a team. If he is successful, he will become one of Nightfall's elite team, the Material Components or MCs. The success of Mission X is crucial, not only to Dante's advancement within The Circle, but for the survival of The Circle itself. He must join the MCs in preventing Lord Raputo from purchasing the Ivory Rose Casino and Gentleman's Club. Master Nightfall's base of power is Hightowne. If Raputo can gain control over the Ivory Rose, he will take control of the small district of Three Gates Bridge. This is the last remaining connection between Hightowne and Nightfall's allies. If Raputo holds the Ivory Rose, he will certainly ensure the destruction of Nightfall, The Circle and any known or suspected agents. Dante's role is vital to the MCs ability to prevent this disaster.
Impressions:
This is a very challenging mission. The easiest level is Expert, and it is accurately named. I do not recommend playing the first time on Impossible as you will have to figure out the many challenging tasks mostly on your own with a minimum of gear available. Professional gives you some hints and a bit more gear. Expert gives you direct hints and ample gear. There is also a very useful key that you only get on Expert and Professional. As many times as I've been through the mission, I still find Impossible, well, nearly Impossible! You enter the Ivory Rose in disguise, so you begin with no weapons, at least until you find your hidden equipment. You will find more gear throughout the Ivory Rose, so keep a close watch for additional arrows, potions and other goodies.
Mission X has so much to offer. The Ivory Rose is a beautiful place full of new textures, new objects and a variety of ambients and music. Every time you play, you will find something different. This is the first mission to truly use a team concept as the basis of game play. The mission is structured so that you are free to finish quickly by doing the minimum of tasks, to explore for hours and do every extra task offered, or to do any amount between. You choose the options which will effect how the game is played. Because you can choose something different every time, Mission X has fantastic potential for multiple replays.
Playing as part of a team may initially sound limiting, but, once you play, you will find that you are free to complete the mission in any way you see fit. There are none if the typical arbitrary limitations on game play such as no killing. You can kill or not kill, whatever suits your mood. You will have the tools available to make your own choice. There is also no loot requirement although this ritzy place has bunches of loot my Thiefy hands just cannot resist. My instict to grab goodies is so strong that I actually find it quite a challenge to play the whole mission without collecting any loot at all. This mission is about the freedom to play the way YOU want to play.
Mission X, like many missions recently released, stretches the capabilities of level editing to the maximum. Unlike other missions, Mission X offers something completely new and fresh. Mission X truly redefines what a Thief FM can be. This is an absolute must play mission.
Dante's story began in CoSaS 1: Gathering at the Inn, so you should play this mission first. If you need some hints or want to share your experiences in the Ivory Rose, head over to the Forum Discussion Thread. You will also find links to mission only and movies only files for those with slower connections as well as some fun extras.




Wednesday, August 13, 2008


CoSaS 2: Mission X to be released Aug 15 - 3:16:10 PM - pavlovscat
Mission Release Announcement
To be released on Friday, August 15, 2008 - Circle of Stone and Shadow 2: Mission X, a mission for T2 by Team CoSaS (Anarchic Fox, Finial, Yametha, R Soul & Digital Nightfall). See the Official Announcement Thread for details.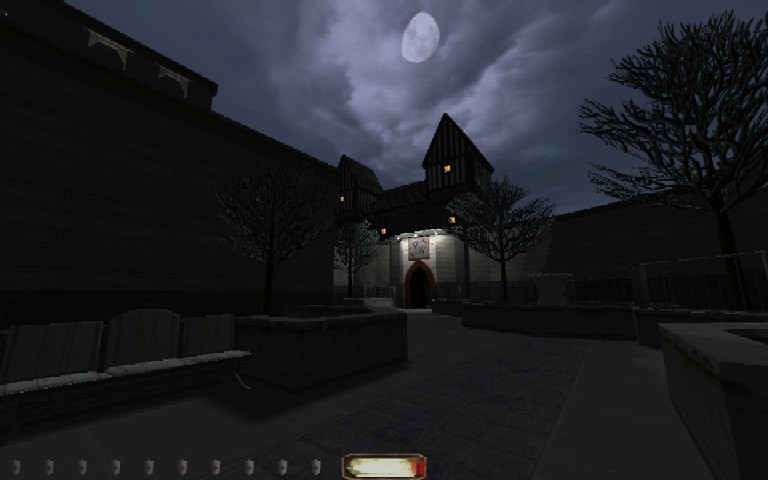 After eight long years, the release of Mission X, the long awaited sequel to CoSaS 1: Gathering at the Inn has been announced. On Friday, Mission X will be revealed, and the fascinating story of Dante will continue. This landmark mission will bring you new experiences never before seen in any Thief FM. It is a very challenging mission you will want to play over and over. In fact, you will have to play it many times to experience everything this complex mission has to offer. Get ready for a whole new kind of FM!
If it has been a while since you've played CoSaS 1: GatI or if you haven't played it yet, I highly recommend doing that today or tomorrow. Be sure to visit the Official CoSaS Website. If you are interested in learning more about the extrodinary amount of work that went into Mission X, check out this post for a historical tour of the making of Mission X.
So, cancel all your plans for this weekend! Get out of work/school/whatever for Friday! If you're a real taffer, you'll be exploring the Ivory Rose all weekend!




Thursday, August 07, 2008


Keeper Investigations for T2 Released! - 11:43:06 PM - pavlovscat
New Mission
Released August 06, 2008 - Keeper Investigations a mission for T2 by intruder
The Mission:
Now that the Trickster is gone, Keeper Artemus has found another concern - the new Hammerite sect, the Mechanists. They are interested in all things of a technical nature and those who work with them...inventors, chemists, engineers. Many of these skilled people have been drawn into this new sect. Artemus needs Garrett to find out what these Mechanists are doing and what their plans are. Will the Mechanists be the ones to bring the Metal Age?
Impressions:
If you like the Thieves' Highway, then you must play this mission. It is intruder's first mission and even more impressive for being his first. This mission takes place in the time between T1 and T2, and the story fits nicely into the established Thief tale. The game play is very good with lots of interesting paths to find. On Keeper (Expert) difficulty, you must find 550 gems in your loot. This adds to the challenge of the game as many of the gems are well-hidden. Overall, this mission is a lot of fun and a good challenge.
Stats:
I finished on Keeper in 48:58 with 3756/3816 loot.
Let intruder know what you think about his first mission in the Forum Discussion Thread.






Lord Bafford's Manor Custom Edition v3 - 12:41:23 AM - pavlovscat
Updated Mission
Released August 06, 2008 - Lord Bafford's Manor Custom Edition v3 a mission for TG by sNeaksieGarrett
Updated: The latest version of LBMCE was made for TG. A T1 version is now available here: Lord Bafford's Manor CE for T1
The Mission:
Garrett must find a way into Lord Bafford's heavily guarded manor. Bafford has a lovely jeweled scepter that Garrett plans on taking with him along with whatever else he can manage.
Impressions:
This is an updated version of the very first Thief: The Dark Project mission. You will find more AI, more loot and some other interesting changes. Play the Custom Edition on Veteran difficulty and see if you can find all the differences.
Stats:
I finished on Veteran in 25:07 with 1794/1794 loot.
Screenshots:
Thanks to sNeaksieGarrett for these screenshots!






Let sNeaksieGarrett know what you think. Post your comments in the Forum Discussion Thread.




Wednesday, August 06, 2008


Das Gasthaus zum blutigen Butt (Bloody Flounder's Inn) - 11:40:27 PM - pavlovscat
New Mission
Released August 03, 2008 - Das Gasthaus zum blutigen Butt a German language mission for T2 by Master_edd
The Mission:
Garrett has heard about a valuable antique crystal and a very special cheese being kept at the Bloody Flounder Inn. The inn's guests will certainly have other things to steal, so this should be a beneficial trip.
Impressions:
Though the texts are in German, this is not a hard mission to complete. It is small, but there are many hidden places to find. Overall, I quite enjoyed the mission.
Stats:
I finished on Normal in 21:28 with 1375/1500 loot.
Are you stumped? Ask questions at the Forum Discussion Thread. You can also find English translations for the mission goals there.






downloads.ttlg.com and email - 1:25:36 PM - Dan
In light of the server malfunctions, a new subdomain downloads.ttlg.com has been set up, and is now fully functional. All links within the fan missions archive and news posts should be updated to the new address. All other links, such as in our media archive and music collection, will be updated shortly. However, simply changing the URL in your browser from the old IP to the new downloads.ttlg.com will be enough to fix any link, if you simply must have access to these files at once!

Don't be afraid to get in touch with us via email if there are broken links in any other areas.






Mortified FanMix by Taonside Available! - 11:10:16 AM - pavlovscat
Thief-Inspired Fan Mix by Taonside
Mortified is one of the most atmospheric tracks I've heard. Taonside (whom we also know as Yandros) has combined samples, sounds, and various effects in an homage to the Thief: Deadly Shadows mission The Cradle. I found this to be even creepier than the Cradle's sound. There is a certain tension that raised my heart rate. There is a lot of low bass, so I recommend a sub-woofer to experience the full effect. To experience the terror, download Mortified in MP3 format. Post your Mortified experience at the Forum Discussion Thread.




Travel to:
Go Back
/
T-tc.com (home)