2021
---
March, 2021
2020
---
December, 2020
2019
---
December, 2019
2018
---
December, 2018
2017
---
December, 2017
2016
---
December, 2016
2015
---
December, 2015
2014
---
December, 2014
2013
---
December, 2013
2012
---
December, 2012
2011
---
December, 2011
2010
---
December, 2010
2009
---
December, 2009
2008
---
December, 2008
2007
---
December, 2007
2006
---
December, 2006
2005
---
December, 2005
2004
---
December, 2004
2003
---
December, 2003
2002
---
December, 2002
2001
---
December, 2001
2000
---
December, 2000
1999
---
December, 1999



Pre-News Database

---
September
1st - 14th / 19th - 25th


---
August
1st - 15th / 21st - 30th


---
July
1st - 14th / 21st - 31st


---
June
1st - 15th / 16th - 27th


---
May
1st - 15th / 16th - 30th


---
April
1st - 15th / 16th - 28th


---
March
1st - 15th / 16th - 31st


---
February
3rd - 11th / 12th - 28th



Travel to: Go Back / T-tc.com (home)
Wednesday, October 31, 2001


CoSaS Site News - 10:48:18 PM - Dan
For those of you keeping track, there has been a new news post posted on the CoSaS site.

It give some news. :)




I have two more fanworks to delight your senses. The first is some art from Librio:
Thanks Librio!
Secondly we have the much awaited continuation of Seamus Sullivan's parody The Mental Age. Here's a peek at the latest addition, chapter 4
The cat who digs
the vibes of other cats
is a square who
needs to get with it.

(Bongos)

Treasures of knowledge and stuff
are, like....
Um....
Where am I?

-Creeper Poetry Reading by Brother Leo

Chapter Four: The Plot Thickens a Bit More

In his safehouse once more, with the door securely septuple-locked, Gary opened the letter, which the Creeper had somehow managed to write and seal in the space of a few seconds while totally without access to office supplies or sealing wax. It was just some more of that mysterious crap he hated. It said the following:

If you want to find out who hired Trout to kill you, go to the Mechalomaniac Sunday school in Eastport. There, try to focus less on swiping anything shiny and more on overhearing a conversation at a meeting there.






Fanworks Audio - 6:50:58 AM - Dan
I added an Audio Section to the Fanworks Archive. Actually they're in with the movie files too. :)

Go check em out - and thank you Jason Tibbitts for hosting the files. :)






Lots of Fanworks to View & Read - 5:52:54 AM - Dan
Happy Fanworks Morning to ya!

I'll cut to the chase. ;)

First we have Hanna with her beautifully crafted fanart, 'Reward'.
Thank you, Hanna - and keep 'em coming. :)
Next up is a continuation of Shadow Walker's Novel in Development, Garrett's Exodus. The update continues the story into Book 2. Here's a taste:
The mechanical head whirred and clanked as it tried to focus on the crouched Garrett, master thief. Damn, he thought, These metal heads are everywhere. Thieving had been made difficult ever since those metal cameras had been fashioned by the Mechanists, the local religious cult. If the heads saw you, they wouldn't think twice to set off alarms, traps, and turrets.

Fortunately, the one in Garrett's way right now decided it had lost its target, and began its regular movements. Garrett sighed, glad that it had passed him over. Passing on, he made his way towards the study, stopping to snatch a vase that might get a fair amount on the market.
A very sturdy note of appreciation goes to Shadow Walker for his continued submissions. :)

Moving along, we have two additions pieces of fan art, by a new submitter, Immortal Thief. Take a look; I happen to think they are rather nice. :)
I hope that's not the last we'll be seeing of you, Immortal Thief!
Finally, at least for this post, is a short tale by 'Rob'. The tale, called 'A New Challenge' is currently in chapter one - which suggests that more is on the way.
A mansion on the outskirts of the city was known for it's castle-like appearance. Some still say it is a castle, but the smarter ones know that it's a mansion surrounded with castle-like walls. The owner of the mansion a Noble that goes by the name of Doumont had the walls built to make it less likely it would be robbed. Either he thought thieves would think it was a castle, which hasn't ever stopped anyone before or just harder to ascend and get over. In any case Lankin was going to get in, he never thought of robbing the place before, it never seemed to be a challenge. Recently though a thief was caught, scaling one of the four towers that surround the mansion. They found him hanging from a rope arrow between the second and third windows on the tower. He was caught thereafter and now is supposedly rotting in a prison. Either way Doumont started to "thief-proof" his mansion, by replacing all the wooden ledges with stone ones, under the windows on each of the floors of the towers. Just yesterday Lankin heard that all the towers were done except for the one on the far right. So he decided that it would be a challenge to rob a mansion that no one had before, and he can only use one of the towers. He didn't have a map or any idea of what was to be expected this just made it more interesting and exciting to him.
More is always welcome. : )

Thank you all for your submissions, and, as always, good luck in your future endeavors!






Thievery Website Update - 3:00:08 AM - Dan
In case you have not noticed (or in case you are still in shock about that Thief Cellphone Game.) take a look over at the Thievery UT website for an update. They are looking for voice actors, as well as giving a little halloween cheer.




Tuesday, October 30, 2001


Thief game on Cell Phones - 3:08:10 AM - Dan


Thievery and Screwy PCs - 6:43:52 PM - Dan
In case you were wondering - my computer is on the blitz. I may have to replace the whole thing. That's why things suddenly got so quiet around here. I'm going to try to get one of the crew take the helm for a while until I can get back on my feet. :)

Meanwhile, things are not so screwed up that I can't post up a cool Thievery UT screenshot sent to me. It features the Maw of Chaos! Rarr! Check it out!




Wednesday, October 24, 2001


You Need Darkloader 3.08. Yes, You Do. - 11:25:41 PM - Dan
Darkloader 3.08 has been out for a while, and no-one told me about it! :O What's up with that, anyway? ;)

Another big well deserved plug for Bjoern Henke is in order. Thank you for your continued support for the program we all depend on to run our fan missions. :)

Download it from Bjoern's site for now, and mirrors will follow shortly (not that it's a big drag to download it ... it's just over 300K.)





Hey, Some FM News :) - 11:06:19 PM - Dan
Want more Fan Missions? Then here you go:

Hidden in Shadows has released a Beta Version of his mission! As a beta, not only does it have bugs, but if you download it, you are under moral obligation to report any and all bugs in a constructive and polite manner. The FM is for Thief 2 ... and the thread is .... Right here!

Tomi reports that his map, Deadly Darkness, is in FINAL Beta - and shall be released soon! Sorry, nothing to download yet ... but I guess it's newsworthy. :) Coach him on, here. Deadly Darkness will be for Thief 1.

YcatX is in the same boat! His mission, Mines of Margroth for Thief 2, is apparently massive, and should be released soon. Give him as much encouragement as you did Tomi, right here.

If you want something finished to just enjoy, then grab Pbucko's Thief 2 mission 'Karrassinian Threat'. The thread is right here. I expect it to be added to our database soon - but since it isn't yet, grab it while it's fresh. :) Congrats on the release, Pbucko, and good luck!

Did I miss anything?






More Answers from the Thief 3 AI Guy - 1:49:02 PM - Dan
Drop on in for a good read. :) This guy sounds like he knows his stuff (of course, since I don't, is my opinion worth anything?). Here's a taste:
I refer to this kind of gameplay as "Design by Telepathy." The designer creates an obscure "puzzle" with exactly one solution. Inevitably, the level designer was smoking massive quantities of crack when he decided on that particular solution and declared it to be "intuitive." You must discover by means of telepathy (or, if you can't afford the phone call to Miss Cleo, trial-and-error) that the right way to solve the Korothian Cow Ninja puzzle is to tie the leprechaun to the tin-foil cowskull and microwave it in the Plasmotic Defibrillator to open the pod bay doors and thereby sneak past the Angry Styrofoam Space Dragon.

Our studio prides itself on gameplay based on open-ended simulation. We don't want to dictate exactly how you play the game. We present the player with a set of obstacles to overcome and give you a whole bunch of different tools that you can use to get past those obstacles. Some players will do it in one of the standard ways we anticipated, but sometimes they'll come up with some clever new solution we never could have dreamed up ourselves.

This kind of simulation-based gameplay requires the AI to be a lot more flexible. For the most part, we don't know exactly how the player is going to proceed through the level or the specific order in which he or she will overcome the obstacles we put in the game. So you need to develop an AI which has some degree of "generic intelligence." The AI needs to understand enough about the game world it inhabits that you don't need to use a lot of scripting to make it look intelligent.

A level designer should be able to just drop an AI into a level somewhere and that AI should automatically behave in a reasonably intelligent fashion with no additional scripting required. If it's a guard, it should act like a guard. If it's a burrick, it should know what a burrick does and act like a burrick.
Thanks, Voodoo Extreme. :)






Omega's Thief Texture Indexes - 9:11:10 AM - James
Omega writes in to tell us that he (?) has built texture databases for Thief 1 and Thief 2. These files can help you decide which texture you might need to use, by placing the texture next to the name and grouping them for easy finding.




Tuesday, October 23, 2001


Thievery UT Desktop Image - 3:18:34 AM - Dan
Dalai has let me know that the Thievery UT website has been updated with a beautifully crafted desktop wallpaper, featuring their project's title, presiding over a thiefy scene. An impressive piece of work, which I am sure will find its way to more then one desktop.

Thanks, Thievery UT team, and keep at it! :)






Review of Logan's Web - 3:14:57 AM - Dan
Despot from the Thief Underground wants everyone to know that a review of Logan's Web has been posted up on the GameSpy owned Thief Fansite. The FM is awarded 8.5 Hammers (and seems to use a variation the review system developed by me for this site). Screenshots follow the review.

Also worth a note is a collection of screenshots by Ghandaiah, and his mission 'The Expedition', posted on The Underground's new section.






New Fanfic from Sneaksie Thiefsie - 6:06:34 PM - Dan
Aaron Graham (a.k.a. Sneaksie Thiefsie), author of the popular Keeper Theses, has sent in a new novel in the development to our FanWorks archive.

This fiction describes what may have been, had Garrett turned down Constantine's offer.
Garrett leant back in the chair to consider Constantine's offer. The amount was tempting. 100,000 could buy an easy retirement; a quiet house deep in the countryside, like Lampfire Hills, or maybe a richly-appointed apartment somewhere in the better district of the City. In the short term, he could pay off his outstanding debts, maybe even spread a bit more money about to pick up new titbits of information.

But even as he thought this, misgivings arose in his mind. There was something deeply.wrong.about Constantine. He was rich, fairly eccentric [if his mansion was anything to go by] and willing to pay top price for the best. But his manner made Garrett wary, and the thought that Constantine had been following him made him uneasy. More than that, Constantine's mansion had seemed very.pagan. As did his manner, and his desire for an "item" deep in the heart of the Closed Area, by the Barricades didn't fit with this persona he was trying to project. The whole job made Garrett feel uneasy, and so he rose up out of his seat and deposited the glass on the table.

"I don't see how I can accept such an offer.mixing up with the Hammerites isn't my idea of fun. Maybe you should find another 'artist' to obtain this item for you.."
Thank you, Aaron. And for the rest of you - enjoy. :)






Arx Fatalis Voiceover by Steve Russell - 2:45:44 PM - Dan
You guys are gonna love this (especially you taffer ladies out there ;). We have two new Arx Fatalis files, mp3s, straight from Fishtank and Arkane. They're both from the Arx introduction. One is a short music track, and the other is a voiceover by Steve Russell, mostly known for his voice work in Thief 1, 2, and Shock 2, as Garrett, Karras, William Diego, and many, many other characters.

Arx Fatalis Intro Voiceover Clip, by Steve Russell

The voiceover also, of course, lays the stage for the world of Arx Fatalis. Enjoy! :)






Fan Missions Featured in PC Zone UK - 2:24:45 PM - Dan
This afternoon, Jordan Newton from PC Zone UK grabbed my head and yelled this into my ear. Careful, it's loud ... Dan rubs his sore ear.
IN PC ZONE UK THIS MONTH (ISSUE 109)THEY HAVE A HOST OF THEIF 2 FM'S ON THEIR CD.

THE FM'S ARE:

EQUILIBRIUM
THE NIGHT I GHOSTED BERKSHEAD
WATERLOGGED
ALLIANCE
WILLOW ISLAND
JAILBREAK 2.0
BREAKOUT

AND MAP OF THE MONTH

THE INVERTED MANSE (WITH BREIFING)

THEY WERE GOING TO PUT BLOODSPORT ON BUT COULD NOT FIT IT ON THE DISK, SO IT WILL BE IN NEXT MONTHS ISSUE (HOPEFULLY WITH MORE FM'S) DARKLOADER 3.08 IS INCLUDED

YOU CAN FIND REVIEWS AND SCREENSHOTS OF THE FM'S ON PAGE 142 OF THE MAG. THAT'S NOT ALL THERE ARE ALSO EXCLUSIVE SCREENSHOTS OF T2X ON THE DISC AND A SMALL ARTICLE IN THE MAG ON PAGE 34.

JORDAN
Err, thanks, Jordan. ;)

And a big round of applause for the authors of those Fan Missions they are featuring. I am sure it makes it worth the effort. :) Bravo also to T2X for scoring that blub. I hope someone sends me a copy. ;)






New FM - Dyers' Eve by Metalhead - 2:16:00 PM - Dan
I hope those screenshots got you in the mood for some taffing. ;) Metalhead has released his newest fan mission, Dyers' Eve! Run over to the FM Database to grab yourself a copy. Here's the info:
Plot Description: "There are cords in the hearts of the most reckless, which cannot be touched without emotion. Even with the utterly lost, to whom life and death are equally jests, there are matters of which no jest can be made" --Edgar Allen Poe

My score with this "Brotherhood of the Raven" isn't settled yet. No one plays me like that & gets away with it. And then there's the fact that I still have no idea where I am. I've shacked up in a local villiage, but what loot I stole from the arena is running low. I made contact with a local "businessman" who offered me a deal. He'd tell me where to find out more about this "Brotherhood" if I'd fetch an old navigation globe for him. He pointed me to an ancient temple that once belonged to them, but is now rumored to be haunted. Much as I'd rather not dance with the dead again, these are "extenuating circumstances." A local weapon shop can supply me with plenty of items to make it a little less dangerous, but I'd better be careful. Rumor also has it that these ghouls & ghosties aren't like any I've faced before.
It's 5.7 Megs, and hosted once again by our friend Jason Tibbits. Thanks Metalhead, and good luck with the votes! :)






Three Fan Mission Previews - 1:15:35 PM - Dan
Today three FM authors were good enough to send in previews of their missions in development. First, I'd like to touch on Dark Angel's nearly complete mission, 'Cathedral of the Damned'. Let's start with some screenshots: (These extremely dark screens have been modified for brightness, and some color distortions are present as a result.)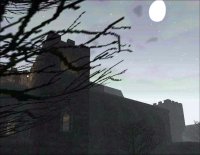 Thief Fan Mission Feature - 11:12:14 AM - Elenkis
3DActionPlanet have started a new feature that examines the ever growing mod communities for a bunch of popular 3D games.

Today the editorial featured our very own Thief community and includes their pick of the best fan missions for both Thief 1/Gold and Thief 2. Each mission has a couple of paragraphs about it, though it understanably misses a great number of fine missions out there (but that's what the Circle's reviews and poll system are for!). Still, it makes an interesting read so be sure to take a look!




Thursday, October 18, 2001


Thief Gold Music Video & FM Screenshot - 1:22:03 PM - Dan
Can you spare the bandwidth? Ghandaiah created a very impressive 'Music Video' using clips from Thief Gold cinematics, set to the Fight Club Opening Titles theme, by the Dust Brother.

I sure liked it - I bet you will too. :)

Apply here for Lowres (8 Meg).

Furthermore, Ghandaiah has a screenshot of his in-dev mission, The Expedition, Part 1 of his Broken Hearts: Broken Justice campaign. Great work Ghan, keep 'em coming!






Ask the Thief 3 AI Guy - 8:50:16 AM - Dan
Voodoo Extreme's ASK column is now ready to go for Thief 3 AI programmer Paul Tozour. You can ask him any kind of tech question you want, just no Thief 3 or UW Engine specifics. Gotcha? Right. ;) So get over to that news post and make yourself busy. Ask some good ones for us!




Wednesday, October 17, 2001


Thievery UT Shows some Goods - 11:23:00 PM - Dan
Since no-one tells me things directly ... : P ... I had to find out through the grapevine that the Thievery UT site has been updated with information on the player characters. Yup, it's cops and robbers, or Thieves verses Guards, as it were. The whole thing is here, and includes some artwork; in-game and out. Sounds and looks to me like they're doing a good job. :)
In Thievery you can join either the Thieves or the Guards, each one having a different feel to control, different equipment and different goals. Our character modeller, Praimen, has constructed new player models for Thievery, modelled, skinned and animated. With over 60 motions, this is no mean feat.





HomeMade 3D Garrett Wallpaper - 12:39:26 AM - Dan
PyrOmonkey has sent in a desktop wallpaper (hmm ... this should go in the fanart archive too) featureing an image he created of Garrett in an unnamed 3D studio. He plans on making an animated short with this in the future. :)

thiefwall_pry.zip - (279 K) - preview
By PyrOmonkey: Thief wallpaper featuring an original 3D rendering of Garrett's face. 1024x768 & 800x600.


Thanks Pyr!

Update: Added to the Fanart Archive, Various 2.






Mike's Thief Book Wizard - 12:30:12 AM - Dan
Mike, owner of The Taffer's Tavern (a Thief Fansite well worth your visit) has released a Thief Book Wizard. This program aids FM developers in inserting readable objects into their missions. The program may be downloaded from the Taffer's Tavern, here. Thanks, Mike! :)

If anyone mirrors this file for Mike and The Circle, let me know so I can link it up. :)






Sammy Pays Final Version - 12:19:10 AM - Dan
The version of 'Sammy Pays his Dues' we released several days ago was a BETA version. Well, the author has just let me know that version 1.0 of the map (that means it's done) has been uploaded. It's still at the top in the FM archive. :).

Played Sammy Pays but was turned off by bugs? Give it another try. Haven't tried it yet? Now's the time. :)




Tuesday, October 16, 2001


Screenshots from ChiefDreams - 10:17:46 AM - Dan
ChiefDreams posted a set of new screenshots of his upcoming Two Mission FM pack (which he doesn't name in the thread) in the TEG Forum. Unless I am very much mistaken, some of the shots feature Schwaa's custom objects. :)






Thief 3 Desktop Backgrounds - 11:33:04 PM - Dan
Hi kids ... er, Taffers. *ahem*

I thought I'd post up a desktop background trio based on the painting of Garrett released a few days ago. They are all high-res, so you can shrink them down to fit your desktop size. Enjoy.

thief3wall_garrett_close.zip - (2.25 Meg) - preview
By Dan: Based on the Thief 3 Painting of Garrett. 1600x1200.


thief3wall_garrett.zip - (2.58 Meg) - preview
By Dan: Based on the Thief 3 Painting of Garrett. 1600x1200.


thief3wall_garrett_far.zip - (1.58 Meg) - preview
By Dan: Based on the Thief 3 Painting of Garrett. 1600x1200.



I am using the middle one, personally.






We Can Always Use More Good FMs. :) - 10:11:22 PM - Dan
Ahh ... a nice email to post up;
I just wanted to let everyone know that I, Darkwarrior, am announcing that my upcoming mission, "Ulshis Island" will be the first installment of a five part miniseries. The player character in the series' name is Dacin, a man who was orphaned and deprived of a family at age thirteen. The missions will be centered on adventuring, and difficulties wont change difficulty, but rather choose the class you wish to play (I'm thinking Warrior, Thief, and possibly Mage [if I figure it out] or Alchemist). The names of the four missions will most likely be:

"Ulshis Island"
"Crimson Wilderness"
"The Dream"
"NIghtmare True"
"Legacy of Dacin"

These last two will be a real roller coaster for you taffers!

The missions will include custom sounds and weapons (using particles and animations) but since I am a poor artist (not DromEd art, but Paint and Adobe Paintshop type art), they will not include custom objects and textures :(. However, they will not need them :).

-Darkwarrior
Thanks DW! :) You can find some screenshots of his first map here.






Interview (of sorts) with Chris Carollo - 10:01:06 AM - Dan
The 'Ask Chris Carollo' Column on VoodooExtreme (www.ve3d.com) has launched its first session. Chris answers a handfull of questions with hinteresting and thoughtfull answers. (Would I say that if he hadn't?) Here's his intro:
I started work at Looking Glass after graduating from college, and was primarily responsible for the physics and sound propagation systems for the Dark Engine, used in Thief, Thief 2, and System Shock 2. I then did a particle system for Jane's Attack Squadron and worked on the multiplayer patch for Shock 2. During the last year of LG, I was on the team working on the engine for our next-gen games, mostly doing editor and physics work.

After LG closed, I moved to Austin and began work as Lead Programmer for Deus Ex 2. I'm mostly responsible for architechtural issues and knowing a little about everything and how it fits together.

Questions in virtually all areas are welcome, including technical questions and questions on design (particularly immersive sim design), as well as questions on how to build software for good game development.
As Chris worked on Thiefs 1 & 2, Shock 2, and is working on Deus Ex 2, this article should be of interest to fan's across the board. :) Read it here, enjoy, and don't forget to send in more questions for next month.




We have three new demo missions for Thief 2, created by William the Taffer.
FightPub is an arena demo that demonstrates continuously spawning AI's
Droid Demo is a Thief 2 mission featuring SS2 Droids
Water Bucket Demo is a Thief 2 water bucket demo, douse torches with a bucket of good 'ol H2O





Fanfic: The Builder's Guide - 2:48:45 AM - Elenkis
Zantie has sent us Chapter 9 of The Builder's Guide, her novel in development.
The footsteps of the man following us round the corner. Rakool started messing with his nose, but I dare not move to slap him in case if the man saw me. He kept walking down the street. I could swear that he looked confused. Then Rakool sneezed. I swore loudly and the man we were watching jumped, seeing us. He turned and started running away. I ran from the shadow, following him. Behind me I could hear Rakool yelling something after me.





Lorgan's Web v1.10 - 2:26:00 AM - Elenkis
Shadowspawn has released a new version of his Thief 1 fan mission Lorgan's Web. Version 1.10 contains many bug fixes and so is definitely worth getting if you experienced problems in the previous release. If you've yet to try this mission:
Garrett discovers a golden opportunity to make some money quickly. A wealthy eccentric (some say wizard) has decided to put a rare jewelry collection on display, and for sale to the highest bidder.

"I've always been reluctant to work with a partner, but this time the job was too big to handle alone. If I had a reliable fence to work with I might not have gotten into this mess. But I've never found another fence I could trust like Cutty..."



Saturday, October 13, 2001


'Winter Harvest' Screenshots - 10:54:07 AM - Dan


'The Search for Crom's Blade' Screens - 10:19:36 PM - Dan
Schwaa (Check out his website, it's got some good stuff!) has sent in a set of screenshots for his upcomming fan mission, Crom's Blade. Take a look!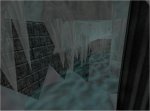 - Earthy Green Cave
- A Mechanist ... or is it?
- Icey Cold
- Campfire Ahead

And now, from the man himself:
Here are a few screens from my upcoming mission "The Search for Crom's Blade", it should be released in November. The terrain is done except for a few minor details, I'm working on AI's now, just figured out conversations. I have a few voice files and a map to finish and then it will be done (finally). It will include custom objects, sounds, textures, and AI's(texture), 3 levels and a short briefing. file size right now zipped is about 12 MB.
Thanx,
Schwaa
Thank you, Schwaa. :)






Garrett in the Woods - Up Close - 10:07:22 PM - Dan
Faceless, a Thief 3 mission designer and expert UT map maker, has sent in a huge high-res version of This image here. While the image I just linked to was scanned from a magazine, the one linked to below (the thumbnail has been edited for brightness) is the actual high-res original piece of art. Nice! It's quite, quite big, so if you have problems with net speed, I suggest you grab the zipped version - that way a download manager can take it rather then your web browser. Enjoy!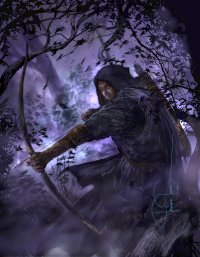 Thanks Faceless! :) Oh, and check out his crazy design skills too.
(P.S. Precision artists will be irritated to note that this painting is comprised entirely of scribbles. ;)






"Dromed virus" revisited... - 9:57:44 PM - MsLedd
Some interesting information regarding the virus infected "Dromed Optimizer" that is being distributed to fan mission authors via email by some pestilent assmonkey (who obviously has no life, no friends and I'm guessing no talent whatsoever when it comes to designing levels himself, which is why he's targeted successful mission authors for his pathetic attack, but I digress...).

Note: This file, (named "setup.exe") is not a Dromed file of any sort, nor was it created for Dromed. It is specifically targeted at Dromed users through selective email distribution, and the declaration that it is a Dromed optimizing program. It's not a Dromed program with a virus, it's a virus labelled as a Dromed program.

Trimfect's F-Secure program flagged the file as being infected with the MutaGen virus. However... Norton, McAfee and Dr. Solomon's Anti-Virus programs (all with the most recent definitions) all reported the file as clean. Furthermore all three programs' virus information contained detailed information about MutaGen, and indicated that it was among the detectable threats. (hmmm...) I sent a copy of the emailed file to Symantec's Anti-Virus Research Center (SARC) with information and a request for response. This is what I received today...
---

Date: Thu Oct 11 13:23:19 PDT 2001

We have analyzed your submission. The following is a report of our findings for each file you have submitted:

filename: C:\WINDOWS\Desktop\Setup.exe
machine: BITCH
result: This file is infected with Mutagen.3368

The attached file is a self extracting zip containing updated virus definitions for Norton AntiVirus to successfully detect and repair this virus.

Developer notes:
Thank you for your submission.

The attached definition files will detect this file as Mutagen.3368.

Should you have any questions about your submission, please contact technical support at the appropriate number listed below and give them the tracking number in the subject of this message.

---
Now, you're probably wondering the same thing I was, and asking yourself the same question... "Antonio Banderas... boxers or briefs?"
(hehe... sorry. Ahem)
Anyway... I have uploaded the virus updater file that they sent me HERE for anyone who also uses NAV and is interested. (BTW, after running the update NAV did in fact identify the suspect file as being infected)
This incident brings up an important issue regarding protecting yourself against potential threats from the big bad Internet... The commonly used standard warning "Don't Open Attachments... unless you know and love the source" while good advice, is not enough. It is an unfortunate but true fact that those we know and love are not incapable of unknowingly passing on dangerous files to us. A fact that is accentuated by the current trend in trojans/worms to spread themselves via email unbeknownst to the user. You can't rely solely on trust...
Basically, you should treat all downloads, email and attachments as potential hazards and employ programs that continuously monitor and protect incoming files. A good anti-virus program (with current, updated virus definition files) running constantly on your PC is a must for any computer. Plus, many of the major anti-virus programs now have email scanning features which watch for and protect against all the latest threats.
Here are the top four AV programs as rated by ZDNet Reviews:
However, as illustrated in this case with the "Dromed optimizer" email, AV programs are not infallible. So, common sense must be used as well...
Do you know the sender?
Did you request the email/file/information?
Is the return address suspicious?
Is it worth the risk?
When in doubt, don't. Either delete the email, or check it out thoroughly using all methods available before proceeding.
Another method of protection is available from ZoneAlarm, which is an excellent and very popular personal firewall program. ZoneAlarm offers an automatic quarantine feature which kicks in and disables all risk type attachments by renaming the file's extension making it impossible for the file to be run accidentally.
The bad guys are out there, and yes it seems they've got nothing better to do than to sit around dreaming up ways to screw with the rest of us... (because lord knows they'll never get laid)
But there are things we can do, so let's not make it too easy for them, mmkay? :)
~M





A Public Service Announcement - 9:52:39 PM - Dan
We all know that dromed likes to spit in your eye and call you bad things. Dromed was really underhanded today, when during saving my map (yes, one of the CoSaS maps) dromed crashed, and corrupted the save file.

Since I don't have a huge harddrive, and I have multiple maps in development at the same time, I can't afford the space to save the map to a new file each time. It just so happened that the file I had been using was a few days old, and had quite a few hours of work put into it.

But I wasn't worried. Take note, this is very important: Whenever you save your map, it also saves a file called backup.mis. This file is simply a copy of the file you just saved. If something unexpected happens, always check backup.mis to see if your map is still safe and sound. However, even more useful then that is p_portal.cow. This is a file that is saved every time you portalize or optimize. If dromed ever crashes during portalization, or crashed during a save, or crashes all at for that matter before you got a chance to save your work, p_portal.cow is your best bet for salvation. Of course, folks who don't portalize much won't find this as useful. (And if you are using a custom gamesys, remember to re-set it.)

Most of you already know this, but I know that many of you do not. One of the worst things that can happen to your work is for it to be destroyed by a corrupt file, a dromed crash, or even your own error. (Sometimes I am going so fast, I point and click without really looking, and choose 'new' rather then 'undo'. That usually makes me very upset. :)

So remember, save many versions of your map, organize them carefully, and don't forget to check on p_portal.cow or backup.mis before you do anything else, if your map file gets messed up, or dromed crashes. :)

P.S. Sometimes when dromed crashes during portalization, your map is not necessarily to blame. Try loading p_portal.cow and trying again. Half the time, it will work just without crashing. When it's a scene complexity error, it almost never shows up the second time.






Open Again, Thank the Builder - 9:40:49 PM - Dan
Seems the moons have finally aligned properly, and the space time continuum has left its state of flux, allowing your browser to finally be able to view this site. :)

Hey, I missed it too. :) It's back now, so don't worry. :)






A Thief WinAmp Skin - 7:21:02 PM - Dan
A winamp skin featuring Garrett has been sent to us by its author, raetsel. I think he is very pleased to share it with all of us. How do you like it? :) (That's a retorical question.)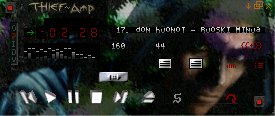 More winamp skins, as well as desktop backgrounds, icons, etc., may be found here.




Thursday, October 04, 2001


Thief 1 & 2 Patches - 3:53:13 PM - Dan
Since 3DFiles shut down ( *wipes away a tear* ) the Thief 1 & 2 patch links have been broken. Thanks to Jason Tibbitts, the files now once again have a home, and may be downloaded from our patch page.

Remember, Thief Gold is not to be patched, and if you use Dromed for T2, you must download both the Thief 2 patch and the Dromed patch, or Dromed will not work properly (and vice versa).






FM: Sammy Pays His Dues - 12:07:18 PM - Continuity
A new fan mission called Sammy Pays His Dues is avaliable here. Use GetRight to download it, 'cos the server is slightly *ahem* busy.

- Update -

Sammy Pays his Dues has now been added to our FM archive, complete with download mirrors. This mission is BETA, which means that users are to expect bugs, and should report them to the map author. Here's the infoblurb:

You are getting some revenge on Sammy for setting you up with Truart's Guards. He is meeting with a Mechanist from the old regime, follow him and find out what he's up to. While there, find something that you can use to blackmail him. If any oppurtunities aries to bring down the Mechanist take advantage of the situation.

And don't forget to check out the screenshots for this map, posted below. :)




Wednesday, October 03, 2001


Fanfic: Forgotten One - 1:52:40 AM - Elenkis
Beholder has sent a short story called Forgotten One.
Small beads rippled the ground as the cobblestone broke their followers unmercifully. A lone figure tucked itself further underneath a building ledge. A street rat, abandoned by all, ignored by all, forgotten by all. A once clean face now smeared with grease and dirt. The rain stroke the stone as if to invade its tender underside. Marbles, like falling marbles, dropped rapidly on a bare floor.





FM: Shore Leave/Creek - 1:38:07 AM - Elenkis
This is a two mission campaign for Thief 2 and is the follow up to Errand Boy in Belboz' on-going The Trickster's Gem Mine series.





By: Belboz

Plot Description: Later on in the night since Errand Boy, You've been sent a warning that the cops are comming to your room in the Inn to arrest you. You have the chance to enter the dockyard now, and try and find a way across the river to the Trickster's Gem Mine on the north side of the river.

Additional Comments: This is a two mission campaign, so when you get to the end of TTGM:Shore Leave, click on continue to get to TTGM:Up Shit Creek






New (old) FMs Archived - 1:10:36 AM - Elenkis
I'm pleased to announce that we finally have all of Apache's awesome fan missions added to our archive. This includes Ramirez' Revenge, Stowaway, Hunt for Montrose, The Keep and Gauntlet for Thief 1/Gold along with Snatch and Grab and Collector's Greed for Thief 2.

Enjoy! And don't forget to add your opinion by using the voting system!




Tuesday, October 02, 2001


Sammy Pays - FM Screenshots - 5:20:27 PM - Dan
Jeff Byrd's new FM, 'Sammy Pays' is finished, and will be released any time now. Until we get a zip file, here's some screenshots to perk your interest. They're good!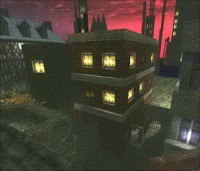 - Breaking and Exiting
- What will she do with her hair?
- Guarded Hall
- Guarded Chamber
- Mechanists
- Firelight
- Guarded Tower







Screenshots from and in-development Mission - 12:55:36 AM - Dan


Obligatory Link: Lazarus - 12:20:37 AM - Dan
A big name in the FM dev world is Lazarus. He's the guy behind many FM intro movies you see, such as The Inverted Manse, and Bloodsport. So it's worth note when he gives his website a nice new look (you make me proud, man!) complete with lots of nice samples.

Consider it your obligation to take a look. :)






FM: The Ring - 2:16:20 AM - Elenkis
The Ring is Thorin Oakenshield's second fan mission for Thief 2.





By: Thorin Oakenshield

Plot Description: One dark night Garrett was aproached by a stranger from out of town, asking him to do a hit on three local businessmen. Garrett turned him down and the man wasn't too happy about it and he vowed to get Garrett. Not thinking anymore about it 5 days later, Cutty turns up at your house saying 'The sheriff has evidence against you for the murder of three business men, He found your ring at the scene'. So that's where it is, it went missing at about the same time as the stranger came. Garrett must get back his ring and find out who really is behind the murders.







Artwork from Sharga - 1:59:51 AM - Elenkis
Travel to:
Go Back
/
T-tc.com (home)