2021
---
April, 2021
2020
---
December, 2020
2019
---
December, 2019
2018
---
December, 2018
2017
---
December, 2017
2016
---
December, 2016
2015
---
December, 2015
2014
---
December, 2014
2013
---
December, 2013
2012
---
December, 2012
2011
---
December, 2011
2010
---
December, 2010
2009
---
December, 2009
2008
---
December, 2008
2007
---
December, 2007
2006
---
December, 2006
2005
---
December, 2005
2004
---
December, 2004
2003
---
December, 2003
2002
---
December, 2002
2001
---
December, 2001
2000
---
December, 2000
1999
---
December, 1999



Pre-News Database

---
September
1st - 14th / 19th - 25th


---
August
1st - 15th / 21st - 30th


---
July
1st - 14th / 21st - 31st


---
June
1st - 15th / 16th - 27th


---
May
1st - 15th / 16th - 30th


---
April
1st - 15th / 16th - 28th


---
March
1st - 15th / 16th - 31st


---
February
3rd - 11th / 12th - 28th



Travel to: Go Back / T-tc.com (home)
Sunday, February 29, 2004


Current Build Thief 3 Screenshot - 10:27:34 AM - Dave
In response to a thread over at the Ion Storm forum Jeremy "Faceless" Graves, one of the developers, posted a screenshot from the current build of Thief: Deadly Shadows.

I have compressed the shot ever so slightly to save on our bandwidth, but the gamma is unchanged. You can see the screenshot here and the original image here, though it may not be active forever. Faceless had this to say of the shot:
Note: The only thing left to 'tweak' is the mapping of the stone on the archways, which will be fixed. But the floor glosses as you walk on it, the moonlight sparkles from the window you can't see... The candle flames dance warmly, glowing etc etc...
The screenshot is great, really atmospheric! I can't wait!




Friday, February 20, 2004


Thief 3 Shots at WorthPlaying - 4:32:37 PM - Dan
Worthplaying has added a collection of Thief 3 screenshots to their site, which includes a mixed bag of old and new shots for the PC and Xbox.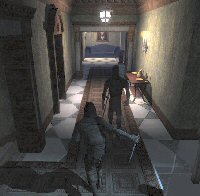 Thursday, February 19, 2004


Yet Another Uninformative Thief: DS Preview - 1:16:30 PM - Dan
Well, uninformative in that it seems to be a "me too" preview; kinda like if you took the IGN and Gamespot previews and shuffled the words around a little to get a new article. I suppose all three publications attended the same press event for the game, and walked away with the exact same impression of it, and wrote about the exact same information. Oh well. Here's the link.




Wednesday, February 18, 2004


New Thief: DS Screenshots - 10:20:46 AM - Elenkis
IGN have posted four new screenshots from the PC version of Thief: Deadly Shadows. The gamma is still a bit too high for the shots, but much better than in the ones from last week.
View the rest of IGN's Thief: DS screenshots right here.




Tuesday, February 17, 2004


Deadly Shadows Cutscenes - 5:34:12 PM - Dave
Recently Tim Stellmach (Lead Designer T1/G/2) dropped into the forums to impart his knowledge on the whereabouts of several Ex-Looking Glass employees in this thread on our forums. Amongst his info he mentioned that Dan Thron (Cutscene Director, Artist, Voices T1/G/2) had started his own video production company called Rust Monkey and that they were doing some work on Thief III.
Running over to their site shows that they did the trailer we've seen as well as "a boat load of SUPER cutscenes for the game!!!" which leads me to believe that Deadly Shadows will more than likely have cutsenes that retain the style of the splendid cutscenes that the previous Thief games had!

This is Good News™! :D




Saturday, February 14, 2004


Two Thief: DS Xbox Previews - 6:04:12 PM - Dan
Two Thief: Deadly Shadows Xbox previews have been posted online as of late, and seeing as we're a Thief Series fansite it made sense to post about it. One is at Gamespot and one at Imagine Games Network.

I took a casual skim through them... doesn't contain anything anyone who hasn't been digesting all Thief 3 info so far wouldn't know already, but if you're still mostly in the dark these are worth checking out. Both previews contain a crop of the same new low-res Xbox screenshots.

Thanks, Stormviper.




Thursday, February 12, 2004


Official Thief 3 Site Goes Live! - 8:54:01 AM - Elenkis
After years of "coming soon" Ion Storm's official Thief 3 website is finally online and open to the public - and I must say that it's pretty spiffy :)

Along with a whole bunch of nice new screenshots you'll also find the previously released trailer, some wallpaper, character/weapon information, fantastic concept art and a bit more besides.

It's coming taffers, getting excited yet? Spring is not that far away now, but in the meantime why not share your impressions of the new site and get involved in the discussion of it on our forum?




Wednesday, February 11, 2004


Gathering at the Bar for Thief 2 - 5:16:09 PM - Dan
The original GatB was released on June 10th, 1999. Coincidentally, the CoSaS Project remake of this mission, Gathering at the Inn, was released one year ago to the day from this posting, on February 11th, 2003. The re-release of the original GatB for T2, converted by James Desiderio, is for mostly nostalgic purposes, and so that possibly those who only own Thief 2 may look GatI's humble beginnings.

Thanks for reminding us, Jimmy. :)





Other: The mission has a re-compressed briefing. If it does not play, grab the original briefing above.


By: Toni Hollming

Plot Description: "Remember when that Thief Garrett stole the scepter of fat Lord Bafford? Well I have a place for it in my circle, and I need you to go get it for me." -Master Nightfall



And yes, today is the 1 year anniversary of Gathering at the Inn's release. Interesting tidbit of trivia, maybe, but to me, it's sort of a special day. I'm getting sentamental, so I'll just shut up now, and go find a cupcake, and stick one candle in it, and sing happy birthday to GatI. ;)




Monday, February 09, 2004


Fixed CoS T2 File - 3:42:59 AM - Dan
An updated version of Circle of Strain for T2 has been updated which fixes a problem the mission had with Darkloader. As over 100 people downloaded the thing, and only one person reported the problem, I can only assume that the error was very rare... but in case it was not, here's the fixed mission. :)

Thanks Jimmy!




Friday, February 06, 2004


New Fan Missions - 7:27:27 PM - Dan
And now, finally, we have four brand new Fan Missions. To Taffers: Enjoy. To Dromeders: Keep 'em coming. To Me: Do this update more often!









By: Flecha das Sombras

Plot Description: One day this would probably happen. Garret was walking when suddenly he had a terrible headache and fell. When he wake up ... he was caught. But luckily the guards don't know who he is yet.







By: John Denison

Plot Description: The town has been taken over by zombies. The warehouse is the last place in town that hasn't been invaded. The guards there are moving the crates out before its too late. Make your way to the warehouse and loot it before the guards finish their work. After your done, you'll have to backtrack your way out and exit through the east gate to safety.







By: Maria Ström (Morrgan)

Plot Description: A priest of the Hammerite Order, Brother Merlon, has been murdered at Highwater Power Station... and another priest, Brother Lukas, is the suspect. He can't tell the truth about where he was that night and therefore he has no alibi; if no new evidence is found, he will be arrested for the murder. Lukas aided Garrett once in the past and has now asked him to return the favor: by finding the real murderer and clearing his name... (more)







Converted Fan Missions - 6:32:23 PM - Dan
The following are more than simple patch updates... they are either conversions of an existing mission from Thief 1 to Thief 2, or a drastic modificiation. I'd also like to say that I am very pleased to see the classic FM 'Circle of Strain' finally converted to Thief 2. Now many T2 only taffers can finally enjoy one of the very first FMs that made everyone's jaw drop and say 'wow!'







By: Komag (Ben Ramsey)

Plot Description: A woman named Victoria has offered me a job to steal a sword from a nobleman named Constantine, but in my preparations for the heist I heard word of a giant tree with valuable magical healing fruit which grows in Constantine's orchard. I've decided to put off the sword job for another night, and steal into the high wall orchard to grab some of the fruits for myself, as they will probably bring in a pretty penny on the street. Basso has supplied me with a basic map he drew from information he bribed from an old guard who somehow used to "work" there - in a tree? Anyway, since I've heard the tree is rather huge, I'm glad the Keepers made me master the art of the rope arrow, which should come in quite handy on this little adventure.

Additional Comments: This is a conversion from the original T1 mission; an update, not a remake from scratch.






By: Markus "Mokkis" Lappalainen

Plot Description: Lord Jack is the richest man in town. He owns a valuable Serpentile Torc and your objective is to steal it. The Serpentile Torc is located in the highly guarded trophy room of Jack's manor. Read Felix's note before getting started.

Additional Comments: Circle of Strain was first released for Thief: The Dark Project, in August 10th, 1999. This level was converted for Thief 2: The Metal Age by Jimmy Desiderio. Thanks Jimmy!






By: Yandros (Russ Robbins)

Plot Description: "My best fence just tipped me off that the Eastwater branch of First City Bank has recently acquired three valuable artifacts, which they're keeping in their vault. Since the rent's due, this place seems as good as any to hit for some stuff to pawn off for the needed cash.

I managed to get some information about the bank from a guy I know who used to bank there. He said most of the floors are marble, which means I'd better take some earth crystals. Also, all the lights in the place are electric, so water crystals would probably be useless. Good thing, since I'm out of them anyway. Finally, he said the front doors are always well lit, well guarded and well locked.... so I'm counting on being able to find another way in.

The area around the bank is secured with city gates after nightfall, but that shouldn't be a problem for me. I'll slip over a wall as soon as it's good and dark...."

Additional Comments: Don't be fooled by the title... this isn't a T1 mission enhanced with Thief Gold content. This is a contest FM which has since been expanded and modified.






Updated Fan Missions - 5:25:01 PM - Dan
My apologizes for the lack of activity as far as FM updates go. My only consolation for you all is that time I would have spent updating the site got spent on mission 2 of CoSaS instead. But enough about me... first we have a set of FM updates. Some are from old classics, and others brand new missions which were simply rushed out the door a little too fast, and have now been fixed. At any rate, if you haven't played any of these, now would be the time.

A note on the 'Raid on Washout Central' fix; the update is apparently old, but we didn't have it until now.







By: Istvan Varga

Plot Description: My first attempt at level editing, a simple mansion mission where you need to steal 'The Mystic's Soul', which - after taking from the 'Bonehoard' and selling it - is now in a nobleman's collection of valuable antiquities. The story takes place between the events of Thief 1 and Thief 2; at this time the Mechanists were not widely known yet, although some of their earlier inventions - such as simple security devices - were already in use by a few nobles who could afford buying them. This job should be an useful training for a similar quest later in time, stealing the Lost City treasures from Bram Gervaisius' larger and well guarded mansion...(more)







By: Meshpit

Plot Description: you have noticed a hole in the hammerite cathedral basement where you will make your entrence, and you have a unkown fence that pays you good for an assasination on thier priest Fretch, and he want the hammer trickster book, assasinate Fretch and steal the book, and ofcourse pick up someting for yourself.

Additional Comments: This mission is very small, just 10min fun.(objectives are listed in the papyrus you got in your inventory)






By: Steven Hindley

Plot Description: You play Ryalla, you start in Ryalla's house, so read Ryalla's diary to find out what is going on.

Additional Comments: This is my effort for the competition that ran on the circle but was scrapped because no-one finished in time.

Has not been beta tested. Dropping a key will make one of the objectives not completed so don't drop any of the keys. This Level drips, so you might need a fast computer just to play it. There is no store, all the items you need are in a hidden room in Ryalla's house.



Hammer Score: 9.0 of 10

Comments by Reviewer:
Review by frobber:

Pros: Outdoors -- A great soggy feeling with lots to explore.
Cons: Indoors -- A somewhat ordinary construction and fairly conventional gameplay with lots of keys.
Bottom Line: Overall -- A big, fun, challenging sloshing-around mission you should not miss.





By: amievil?

Plot Description: Almost two years agone, Garrett took me in as a student to his ways. For two years, i've worked hard to be the best that I could possibly be for Garrett, and for myself. And then the voices started. I hear them constantly, they call to me of the fall of Empires and the torturing of men's souls. There is one voice that I Simply cannot get away from. It stays with me constantly. Two weeks ago, the voice began it's maddening demands to kill. It demands me to kill the one person who ever cared about me. It demands I kill Garrett. I can't make it stop, I try but it just won't go away... And so tonight, I'm going to do what countless guards, Mechanists, undead, Hammerites, Thieves, and the Trickster himself failed to do: Tonight I'm going to kill Garrett. But I don't want to be known as the one that brought the bitter end, so I'm going to kill everyone else here, too. Perhaps I am consciencly insane, time will tell.

Additional Comments: Part 3 in a series begun with Hell's Motel 1 & 2.




Thursday, February 05, 2004


Anyone Want Thief Gold? - 4:21:22 PM - Dan
I've come into the possession of a copy of Thief Gold, new in a box. I'm interesting in auctioning it off, to benefit the 'starving college student that is me' fund. :)

Please rush over to this thread for info, and to make your bid if interested!




Travel to:
Go Back
/
T-tc.com (home)