2021
---
April, 2021
2020
---
December, 2020
2019
---
December, 2019
2018
---
December, 2018
2017
---
December, 2017
2016
---
December, 2016
2015
---
December, 2015
2014
---
December, 2014
2013
---
December, 2013
2012
---
December, 2012
2011
---
December, 2011
2010
---
December, 2010
2009
---
December, 2009
2008
---
December, 2008
2007
---
December, 2007
2006
---
December, 2006
2005
---
December, 2005
2004
---
December, 2004
2003
---
December, 2003
2002
---
December, 2002
2001
---
December, 2001
2000
---
December, 2000
1999
---
December, 1999



Pre-News Database

---
September
1st - 14th / 19th - 25th


---
August
1st - 15th / 21st - 30th


---
July
1st - 14th / 21st - 31st


---
June
1st - 15th / 16th - 27th


---
May
1st - 15th / 16th - 30th


---
April
1st - 15th / 16th - 28th


---
March
1st - 15th / 16th - 31st


---
February
3rd - 11th / 12th - 28th



Travel to: Go Back / T-tc.com (home)
Wednesday, January 22, 2003


Review: The Turtle on its Back - 12:01:57 AM - Elenkis
This time Eric reviews The Turtle on its Back, Gonchong's entry from the original small fan mission contest.

Hammer Score: 5.0 of 10

Comments by Reviewer:

Pros: The mission takes place in an upside-down submarine, a very neat setting; there are some nice sights, and exploring the level is generally interesting.
Cons: The underwater areas are capable of being significantly frustrating; there are a few nonsensical elements (such as the waterlogged, but still active, mines).
Bottom Line: A solid, though tiny, mission. Though it isn't as good as it could be, it's the only mission to attempt this particular setting.
Thanks again Eric!




Tuesday, January 21, 2003


Review: Paladine Manor - 11:35:31 PM - Elenkis
Eric D'Avignon has reviewed Paladine Manor and awarded it a score of 4 hammers. This mission was created by Mark Roller (BlackRuin) back in 2001 and was until now missing from our database, so go check it out :)

Hammer Score: 4.0 of 10

Comments by Reviewer:

Pros: Generally solid construction, fun though limited gameplay.
Cons: Unbeatable on Hard and Expert, often overly symmetric in design.
Bottom Line: A good mission. It's not outstanding in any way, though.
Thanks Eric!






Please Help us Finish CoSaS Mission 1 - 7:54:46 PM - Dan


Fanfic: Interlude - 3:45:37 PM - Elenkis
Caer O'Laine has sent us the prologue for Interlude, a new novel in development for the fanfic library. Here's a peek:
The sound vibrated, as it was reflected by the high roof, which even the powerful floodlights couldn't lit. He wiped out the sweat from his forehead and frowned when his fin­gers touched the fresh wound caused by a fall that occurred the day before yesterday. He had much luck as the stone cut only the skin, leaving the bones intact. Anyway, he had enough of this job. The Mechanists paid well but it was hard earned money: not some shallow earth­works but breaking through the solid rock. Had he known earlier about it, he wouldn't have volunteered even if they had given him a treasure. Well, one treasure he could consider. The rumor had it that somewhere in the vicinity captain Markham, ringleader of pirates fifty years prior had his hideout. Maybe there was something in there that could lead to his treasure?
Thanks Caer!






Fanfic: The Meeting - 3:08:48 PM - Elenkis
The Meeting is a new short story written by Sam Pearson, it's his first attempt at writing a story set in the world of Thief. Here's a snip:
A shadowy figure was crouched in the doorway, pocketing the picks it had used so successfully. It reached a hand out the floor, and its shoulders seemed to ease just slightly when it felt carpet. The thief crept into the room in utter silence, pushing the door back into place. Archibald did not breathe. He watched the shadow stand, moving across the room to the desk, and begin carefully pulling drawers open. Warmth flooded Archibald, despite the night's chill, and he stepped out of the fireplace. His movements mirrored those of the thief, stepping lightly, not making a sound. He crept up behind the figure, which was crouched again. Archibald saw the thief's hand move, holding an object up to the moonlight. Gold glinted in the pale gloom. Mother's ring. This... thief... was stealing Mother's ring. Archibald clenched his teeth, let his fury flow up into his arms, and brought the poker down hard.
Thanks Sam!






Artwork from John Castiello - 2:46:34 PM - Elenkis
John Castiello has sent us another one of his great drawings, with touch up work again done by Todd Schneider. This one is entitled Found!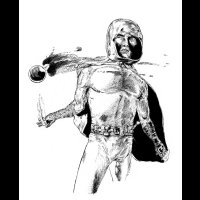 Thanks John!




Tuesday, January 14, 2003
I have no idea how we missed this. Perhaps it was because they announced on the forum, but the thread died before I got back from Christmas break; in any case, it deserved to be up here. But to get to the chase--the Thief 2X team has given us huge update on their project.

For those of you not in the know, here is my little description of (and mini rally for) Thief 2X.

Thief 2X, also known as T2X, is a massive FM campaign spanning an incredible 13 missions. Apart from the "usual" additions such as new textures and sounds, there are 20 custom-made animated cinematics and 25 new NPC voice sets--not to mention new weapons (with new effects) and new items. Mission scenarios include exploring the docks of The City, truding through deadly swamps, pilfering a luxury hotel, an abandoned hospital, and even an ancient mausoleum. (If you've been in one of those in real life, then you know that's going to be a creepy mission...)

And what's more, Thief 2X has its own original storyline spanning two cities and a year's worth of time. You will take the role of Zaya, a female thief who seeks vengeance for her cousin's death. You will even uncover the mysteries behind the Old Quarter catastrophe...all under the watchful eyes of the Keepers.

Plus, there are some great people working on the team--definitely some awesome things to expect from them. Gingerbread Man (Benny's Dead), Robin G (Lady Whitman's Disease, Saturio Returns Home), Saturnine (The Seventh Crystal), Avalon, GayleSaver, Mazur (Durant), and Gonchong (Willow Island)--just to name a few.

To sum it up, Thief 2X hasn't gotten the attention it's deserved lately. You should take a look and give it some. :)






Opera & Moz fix? - 11:48:01 PM - Dan
Daxim & I belive we have fixed one of the big problems in Opera and Mozilla - the way all of the content was bumped down 9 pixels. If it's fixed for you, then hoooray! If it's not, then let me know.




Saturday, January 11, 2003


Thievery 1.3 Sneak Peak - 9:48:29 AM - Dan
The Thievery UT team has brought us a sneak peak of their next updated, version 1.3. The site has been updated with screenshots and info on two new maps, as well as one updated one. They also have this info on code improvements:
The game code has also been improved, with many tweaks and bugfixes. We've optimised the bandwidth used for a bunch of things, which should hopefully reduce the lag peaks you get whenever a player joins midgame. We'll be adding new player taunts/speeches and making these bindable for ease of use. The transparency of thieves have been improved, there's a period of spawn protection, Thiefmatch has been given a boost with the addition of fire arrows and a more adversarial objective, plus many more changes we hope you'll like!
If you like Thievery, you may also want to check out their new forum.




Thursday, January 09, 2003


Calendra's Legacy Design Notes - 7:23:58 PM - Dan
Purah has posted for download a collection of files featuring his design notes for Calendra's Legacy! Here's a blurb from the thread:
I included some funny images that show the source material behind my paint shop pro work. I also included some of the tutorials I used for the timers and the traps and that kind of thing...which you can certainly find elsewhere..but I figured it would be nice to have them close at hand. I also included some stuff from the original Calendra's Cistern notes and pre-prod plot outlines. There are some wallpapers I used on my system to keep myself motivated and a map of how I mocked up the AI patrol routes through the city as well initial plans for the NLDE (night of the living dead event).
You can visit the thread, here. The download, courtesy of Jason Tibbitts, is here.

And most of all, thank you, Purah, for doing this! :)






The Complete Unfinished works of Sneaksie Thiefsie - 7:07:49 PM - Dan
Sneaksie Thiefsie has been a long time author of what can best be described as "non-fiction fanworks" - often lengthy theses detailing many aspects of the Thief world, including many things the games never went into. In giving a fond farewell, Sneaksie has uploaded his complete unfinished works to his website.

The Keeper Library

There you can read all of Sneaksie's Thief world related work, including many short tales. I hope that when Thief III comes about and we are blessed with tons of new information and insights into the Thief world, Sneaksie will return to write us some more interesting conjectures. Until then, taff on, sir!






Stronghold Update - 6:35:04 AM - Elenkis
John Eric has updated his classic Thief 2 fan mission, Stronghold. This brings the mission to version 4 and updates the books and in-game texts, providing more info and character to the mission.


 Other:
Author's Homepage


By: JohnEric

Plot Description: You've just paid handsomely for the construction of a secluded hideaway adjacent to the Great Forest. The contractor was as discrete as a lot of money and threats can cause him to be. How the contractor kept the work under wraps was his problem. If it became your problem, you would have to start eliminating the leaks, and he knows it. Apart from the contractor, pagans made up the bulk of the work force...(more)

Additional Comments: Although some portions of this level may seem impossible, I assure you they ARE possible. A hint ... don't waste your gas arrows at the beginning.

PLEASE! TURN ON Weather and Fog! Half of this game is outdoors, in snow and fog.

Congratulations are also in order as John sends word that his book Descending Circles Ascending Earth has been published! :)






Artwork from Andrea Marchi - 6:08:52 AM - Elenkis
Escape From the Hammerite Land is a new piece of artwork sent to us by Andrea Marchi:
Thanks Andrea!






Thief 3 Engine News - 10:07:18 PM - Dan
VE3D just posted this bit of info on the engine Thief 3 & DX2 will be using:
dx2 and t3 arent using unreal any more, other than the editor. we rewrote the renderer (lighting/shadows/normal maps/specular, etc), the sound engine, the physics engine, and all of the game code (properties/weapons/game systems). not that unreal doesnt look GREAT these days. we're friends with epic and respect them a great deal. but we just have a focused design and felt the need to have an engine tailor-made for the games.
GOODIE!! Hrm, so what name do we give this engine of awesomeness? ;)




Thursday, January 02, 2003


Thief III News Bit in PC Gamer - 5:34:40 PM - Darkwarrior
An article in an older issue of PC gamer provides a bit more insight into the artificial intelligence of Thief III, which seems to be one of the team's major focuses on the game (and it's about time somone did it, too).

To quote:
---

ION STORM BILLS ITSELF as the "home of the immersive simulation." For its action/RPG Thief 3, the developer has built a custom system that promises to puch game AI to new limits.

Our AI [NPC's] take lots of factors into account to determine how well they can see a target, including distance, line-of-sight, occlusion, amount of light, and speed and size of the target," explains AI programmer Paul Toxour. All of which are necessary traits for enemies tracking a silent intruder like Thief 3's hero/burgler, Garrett.

"In Thief 3, the AI will have an evidence tracking system, which means it will retain information about which events made it suspucious and where," adds Tozour. "The AI will be able to draw better conclusions about which areas should be searched more for intruders. When AIs say 'It must have been rats,' they'll have really deduced that, although if you're playing the game well, they probably won't be right."

---
It's not much, but it's still quite interesting and provides just a little bit more info about Thief 3.

If things keep going this way, perhaps the media "blackout" will come to an end soon.

Talk about this article in the ThiefGen Discussion.




Wednesday, January 01, 2003


The New Circle Goes Live - 8:42:50 PM - Dan
Hi guys. Well, here we are! The new Thief-TheCircle.com is live. (If you use Opera, you need the latest version.) I hope everyone likes it. I don't expect everyone to at first - it may take some time to get used to the changes, but I doubt it will be very hard for you to find your way around. First, some special thanks.

First of all, to Matthew Almand, without whom this design could not be possible. Matt is the artist responsible for drawing all the new artwork you see before you. Without his beautiful creation, I would never have been inspired enough to actually put my idea into reality.

Secondly, to Daxim, who taught me enough about Cascading Style Sheets to make this webdesign task a grand new experience and challenge. Without the knowledge I gained from him, again, this design would not have been possible.

And I also must thank Elenkis, Msledd, Saam, and everyone else who's helped over the years, because without their hard work, The Circle wouldn't even exist at all.

And finally, thank you to the folks who urged me on and encouraged me as I was working on this new design off and on for about a year. Thanks for your input and praise. :)

So, what's so great about this new design? First of all, some much needed linkage to four very important websites now grace the main menu circle. Secondly, the page loads twice as fast as the old one, and the content all loads first - so you don't have to wait for the graphics to load before navigating the site or reading the news. That alone, in my opinion, warrants the redesign. I also hope that it's better organized and easier to navigate in general. Hell, I think it just looks a whole lot better, too. (Elenkis especially likes the wider news posts!)

I am very pleased with the new design, and I hope everyone else grows to love it as much as I do.




Travel to:
Go Back
/
T-tc.com (home)