2021
---
April, 2021
2020
---
December, 2020
2019
---
December, 2019
2018
---
December, 2018
2017
---
December, 2017
2016
---
December, 2016
2015
---
December, 2015
2014
---
December, 2014
2013
---
December, 2013
2012
---
December, 2012
2011
---
December, 2011
2010
---
December, 2010
2009
---
December, 2009
2008
---
December, 2008
2007
---
December, 2007
2006
---
December, 2006
2005
---
December, 2005
2004
---
December, 2004
2003
---
December, 2003
2002
---
December, 2002
2001
---
December, 2001
2000
---
December, 2000
1999
---
December, 1999



Pre-News Database

---
September
1st - 14th / 19th - 25th


---
August
1st - 15th / 21st - 30th


---
July
1st - 14th / 21st - 31st


---
June
1st - 15th / 16th - 27th


---
May
1st - 15th / 16th - 30th


---
April
1st - 15th / 16th - 28th


---
March
1st - 15th / 16th - 31st


---
February
3rd - 11th / 12th - 28th



Travel to: Go Back / T-tc.com (home)


FM: The Chain Project - 1:32:14 AM - Dan
I am pleased to announce the completion and release of The Chain Project, an FM for Thief 2. Demagogue explains;
Authors: John Denison, Vlad Midnight (Lead), demagogue (Lead), Shadowspawn, Random_Taffer, OttoJ55, SlyFoxx, The_Dude, Flecha das Sombras, Thiefsie Fool (TF), Speesh, d0om, Zaccheus, nicked

This mission is the combined work of all the authors above, all linked together. The idea was that one person would independently build an area and then pass it on to the next person in queue to do the same, and so on ... So don't expect to find much continuity! But *do* expect a wild and fun ride! The areas are linked in that often an item you find in one area will help you get into further areas. There are a few objectives, if not exactly a Shakespearean epic story.
I took a peek at it myself before making this news entry, and I must say that it's a very odd and interesting bit of work. I especially appreciated that everyone's area is labeled once you enter it, and there seems to be no one, nor two (or even three) clear paths through the insanity. It's nice to see something started in 2005 get finished. Thanks guys, and congratulations!

There is a old and long thread on this topic in the editor's forum, for anyone interested in its history or authors. Additionally, a new thread has been started for it in the Fan Missions forum. Be sure to let them know what you think!






More Screens of Sliptip's 'First Project' - 1:01:59 AM - Dan
Sliptip is at it again, releasing a new set of eight screenshots of his fan mission in development, The First Project. The thumbnails below will take you to the forum thread where the images have been posted. Amazing. Yes, those are Thief 2 screenshots.



TDS FM: The Oldstone Castle (Beta) - 12:50:54 AM - Dan


Dance with the Dead correction - 12:14:57 AM - Dan
I erred a few days ago when I added a patched version of Dance with the Dead to our database. A newer version than the one I posted already existed, in the form of v1.2. My apologies to Yandros for this oversight, and for everyone who downloaded an out of date version of the mission.






Thief Deadly Shadows on Steam - 10:53:01 PM - Dan
As expected, Steam has added Thief Deadly Shadows to its download retail service. Although this service is regarded as controversial by many of the taffers around these parts, it's possible that this could bring a new audience and new players to the Thief series and our community. It is still unknown if edios plans to release Dark Project or Metal Age on steam, but it should be noted that Deus Ex and Invisible War are available, and I highly recommend both. I would consider Deus Ex to be among my favorite games.

If anyone has definite information on the compatibility of the Steam version of Deadly Shadows and the editor / fan made missions, please let me know.





List of Upcoming Fanmissions Update - 1:16:00 AM - The Phantom
This is the latest update to the List of Upcoming Fanmissions thread.

6 authors added: Jabberwocky, Oneiroscope, Ravenhook, Spike14, Storybuilder, zacharias
filled in the definitive name of GORT's Fm in development: The Unknown Treasure
added the mission 'Bane I
Keep of Deceit
' to theImmortalThief's Fm(s) in development
added the mission 'Suffer catalyst' to Asgaroth's Fm(s) in development
added the mission 'Shadow of Karras' to MaJiC@work's Fm(s) in development
added an 'Untitled mission' to Dr Sneak's Fm(s) in development
added an 'Untitled mission' to redface's Fm(s) in development
renamed Yandros' mission 'Realm of the Bone king' into 'Dance with the Dead'
removed the mission 'Dance with the Dead' from Yandros' Fm(s) in development
removed the mission 'Dirty Business' from Dr Sneak's Fm(s) in development
'Up for Adoption' link added to redface's information
'Up for Adoption' link added to Dr Sneak's information
'Assistance asked' link added to Rob Hicks' information
added Dr Sneak, redface and Rob Hicks to the list of 'Author's looking for help'
new screenshots link for the mission of the following author: nightshifter
latest news link(s) for the mission(s) of the following authors: amievil?, ataricom, BlackThief, DrK, gaetane, GORT, Gregorius, Istvan Varga, Kamon, Krush the Second, MaJiC@work, mkadlec, Morrgan, Ottoj55, RiCh E, Rob Hicks, sirbalu, Sliptip, theImmortalThief, Thief13x, Tomi, YcatX, Zontik
changed the Current status for the mission(s) of the following authors: Apache, Asgaroth, Dario, Dr Sneak, DrK, Istvan Varga, Morrgan, redface, theImmortalThief, Zontik
filled in an Estimated release date for the mission(s) of the following authors: Dr Sneak, DrK, Gregorius
changed the Estimated release date for the mission(s) of the following authors: Apache, Istvan Varga, MaJiC@work, mkadlec, Morrgan, redface, Rob Hicks, Sharga, sterlino, tdbonko, theImmortalThief, thiefinthedark
details for the mission(s) of the following authors: Dr Sneak, theImmortalThief
changed the details for the missions of the following author: Sharga
added the threads Active FM Authors and Are there still builders? to the list of 'Other threads about upcoming missions'
added a link to the latest 'FM News Update' posted on The Circle.
several changes to the introduction at the start of the thread (recommended to read first)

Exactly 100 author's in the list!






FM Screens by Slyfoxx - 10:53:25 PM - Dan
I don't know how much longer this free time will last, but for now I am making the best of it. Slyfoxx came back out with a full set of screenshots to accompany the one he posted the other week. They depict a very red (warm and cozy!) home interior.

Thanks Slyfoxx!






New Garrett Artwork - 9:10:59 PM - Dan
It's actually not new - but we didn't have it until now. Dominus was good enough to send this in, oh, gosh, months ago.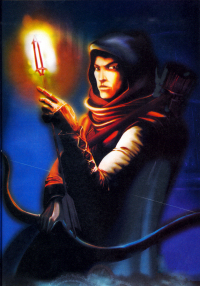 And of course, the thing that makes it Garrett is the fact that it looks nothing like Garrett. I think the only requirement for drawing Garrett is to make him look completely different each time - at least with official art. On the other hand, that particular visage does somehow look familiar to me. At any rate, it's been permanently archived in the official art gallery.






Fan Video Time - 6:38:32 PM - Dan
I noticed on our forums that some interesting live-action fan videos have popped up. Vipercat is the first to point out some ridiculess clips on Youtube, in which scenes poking fun at the games are acted out in cardboard costumes with authentic sound effects and voice overs applied afterwards. Titled as outtakes, it seems that this band of young people intend for these clips to be teases of a larger production. So cheeky.

On a slightly more amusing note, the French titled and French spoken GARDES Les MAITRES de la NUIT (something about guards blah bleh of the night, pardon my french...) was pointed out by Mahoney. Clearing was then quick to point out that his site features downloadable versions of the video, possibly at higher quality. Even with not understanding a word of it, it still managed to produce some "laugh out loud" moments from me... which says alot, since, you know, I am such a harsh critic and all. ;)

It's also worth nothing that in a different thread, in a different forum, YcatX presented his Youtube homepage containing a list of the briefings and cutscenes he's put together for his fan-made missions.

As one last note, I am aware that Youtube is host to at least all of the official Thief briefings, cutscenes, and trailers. Given that any owners of the game should find these files all too accessible on the game discs themselves, this is not extraordinary. However it does come in handy when you're trying to show a friend or two a little bit of what makes you so obsessed with these old games, and your discs nor your PC are handy at the moment.

And as a post-script, anyone caught referring to Thief cinematics, chopped up and set to popular music, as an "AMV" will be met with a blank stare. (Don't click the link if you value your sanity.)






Yandros's Hammerite Pack for T2 - 3:50:49 PM - Dan
Fan Mission Authors should be interested to note that Yandros is creating a Hammerite Mission Development Kit (HMDK). In addition to porting Thief 1 Hammerite content into Thief 2, it features a wide variety of totally new meshes and skins, featuring priests, novices, crossbowmen, women, haunts, and even bots. In the future, this project will also feature new voice sets, Hammerite related props, and textures. Thanks for all your work, Yandros!






Eidos Titles on Steam - 3:43:55 PM - Dan
Steam has reported a deal with eidos to provide new and classic titles for sale and download using valve's (somewhat controversial) retail service. Though the Thief series (nor Deus Ex) are available through Steam at this time, it is conceivable that they will at one date be. On the one hand, similar "download and buy" services which already provide Thief 2 have limited its playability by disallowing users from accessing the game files, thus making Fan-made missions unplayable (which, in my eyes, defeats 90% of the value from owning the game). Only time will tell if the same will hold true for the Steam versions (doubtful, as other Steam titles have been very moddable) if they ever come to exist. Just FYI.

Naturally, a heated debate is already going on in our forums.






Thief Mod for Oblivion - 3:33:48 PM - Dan
vurt has announced the Thieves Arsenal Mod for TES4: Oblivion.
Thieves Arsenal is designed to introduce the stealth gameplay of the Thief series to Oblivion. In Oblivion, stealth functions mainly as a prelude to combat, allowing your character to sneak up on opponents and score extra damage. But avoiding combat is often impossible, and once a fight has begun, stealth is of little use. The Thief games, by contrast, emphasize avoidance of combat through the use of special tools and clever strategy. Thieves Arsenal makes those tools available in Oblivion, opening up an entirely new style of play.
As the above paragraph indicates and the project's website explains, this Mod is much, much more than just a set of Thief-Universe inspired objects for Oblivion. This Mod features a long list of contributors and plans for future additions.






UT4 - Thieves of The Shadows' Age - 3:26:57 PM - Dan
Though they claim that it's been announced already, this comes as news to me. This is a total conversion mod (TC) for the unreleased Unreal Tournament 4 (formerly 2007) in the same vein as Thievery and Nightblade. Here's the word:
Thieves of The Shadows' Age is an online total conversion (tc) for the upcoming game Unreal Tournament 3.

The tc consists of two gametypes, the first of which is Thieves vs Guards (TvG). Those who have played the ThieveryUT mod by BlackCatGames will be well aware of the idea behind the game. Human Thieves vs Human & AI guards in a variety of different locations from country estates to small hovels. TvG will be the first public beta released version of the total conversion so that players can get accustomed to the gameplay.

Our second gametype is called Projects. Projects are story-driven co-operative campaigns in which you and your partners in crime must work as a team. Each project is it's own storyline driven set of missions, each one leading to it's own finale. You and your friends will be immersed in an AI living,breathing world where political and religious factions are distrustful, city guards are drunk and dangerous, nobles are toffs and underground movements plot away for their own ends. It will be up to you and your friends to work as a team to help complete the objectives, while avoiding some unneccessary ventilation. This gametype will be released in the second public beta version of our tc.

Thief 1/G/2 Fan Mission Convertor. A small program (finished and working actually ) that allows original fan mission authors (and those who have sought permission to convert them of course) to convert their fan missions to our tc. There are two things the convertor does, converts the brush work and then converts texture calls to link to our own textures. So on conversion you get all your rooms converted and with textures too Already tested on an unreal engine 3 based game, with a very large roofy map, entire thing converted perfectly and no need for loading zones . Can also be used for referencing your maps to remake them using static meshes
Mutated Minds is the home of the project's forum (they are recruiting) though it is unclear if that's the team name as well, or simply the name of the place where they put their forums. At any rate, good luck to you all.






The Flesheaters Present The Cabal - 3:20:24 PM - Dan
We don't see much activity on the Thief: Deadly Shadows FM development front, so I thought this deserved its own post. This was presented back in January, but we missed it back then.
We are a small group of thief fans, called the "Flesheaters", who want to show what T3 is actually capable of. (Flesh is the renderer of T3) We have been working on a small three mission campaign since quite some time now. "The Cabal" takes place shortly after the events of Deadly Shadows and features a dark story about betrayal and corruptness. The Ex-Keepers are in big danger and so is Garrett.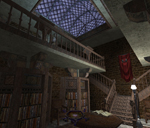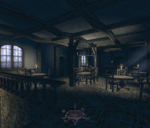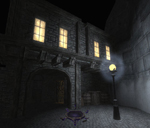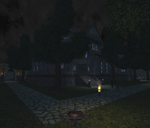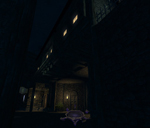 FM Screenshots on Parade - 2:57:25 PM - Dan
Many Fan Mission authors have been promoting their work (and eachother's work) over the past few weeks. Below is a selection of what I was able to gather from the many forum posts on this topic, presented in digest for our readers. Be sure to join the ongoing discussions on these images in each of their respective forum threads. And thank you to the authors and others for sharing all of this work with us.

Bane I - Keep of Deceit & Bane II - Cult of the Damned by theImmortalThief. A new thread features a selection of old and new screenshots from this author's three part series.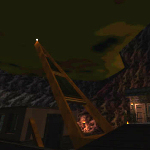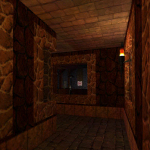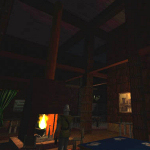 Untitled by Zmey. Clearing tells us, "Zmey, (author Secret Breaking of the Pyramid) got new mission started about "ancient timeses", when prospered the city Karath-Din. Events will occurs in nearby small city around Karath-Din."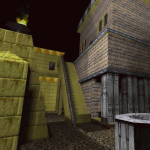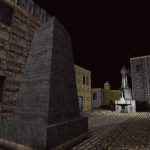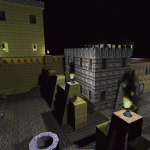 Time Outside of Time by marshall banana. This author looks like he's just getting started with a castle-type mission.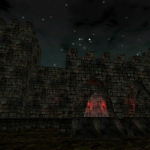 Dracula 5 - Final Chapter, by Sensut. He's not wasting any time getting out the conclusion to his very popular series, but it doesn't look like the design is suffering at all from the speed.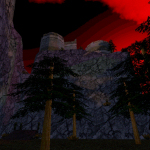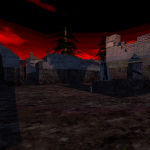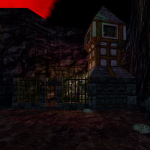 The Radiant Garden, presumably by Theker (I may be wrong here); A german mission in progress which is promised to be released next month.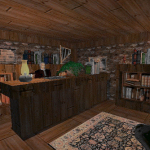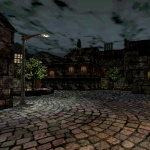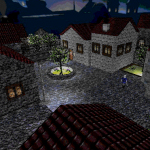 The 7th Crystal 2, by Saturnine has been in, shall we say, development hell for the past several years. But it seems that the mission is still being worked on, and once you see the latest set of screens posted to the old thread, I think you'll agree that this is a good thing.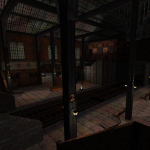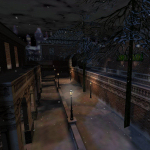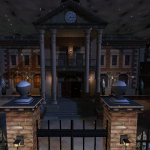 Slyfoxx comes at us with a solitary screenshot. It's not clear what mission this is part of.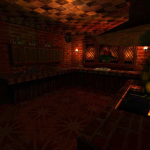 GORT promises that his FM, Unknown Treasure, is almost done. He's released a set of screenshots to build anticipation. Nice work, GORT.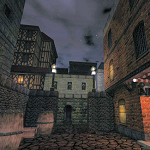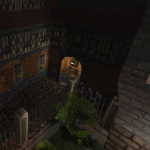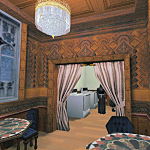 New FM: The Librarian - 1:13:03 PM - Dan
Our most recent mission release, having taken place on March 13th, is The Librarian, by nightshifter (ger Hermans). The simple and straightforward explanation of this mission indicates, as does the title, that you will be robbing a library. darkfate.ru provides screenshots, and a lengthy discussion is in progress on our forums - an indication that this mission may be a little on the tough side. Enjoy, and thanks nightshifter, for your work!






Lord Gibson's Estate in English - 1:02:08 PM - Dan
Though this would count as an 'update' as well, I couldn't seem to find this one in our archive. Mr.Magoo's Lord Gibson's Estate was first released in Sept of 2006, but has recently been updated to include an English Language translation. As usual, you can find a wide selection of screenshots on darkfate.ru. There's already a discussion in progress in our forum.






VadrigarÔ's Prision & Dance With the Dead Updated - 12:27:42 PM - Dan
Recently, two Fan Missions have received updates.

Yandros's Dance with the Dead has been updated to version 1.1. The updated includes a fix to a minor issue with the French, German, and Italian versions.

An older FM, VadrigarÔ's Prision by cardia1 has also been brought to version 1.1 which a much more extensive update, which includes new textures and many tweaks and fixes.

Thank you both for your continued dedication to producing quality fan-made content!




Wednesday, March 21, 2007


A Blast From the Past - 3:25:27 AM - Biohazard
This isn't really news, but I thought that some might find this thread interesting.

It shows what the original Circle looked like and an older model of today's Circle.

Older Model
Original Circle

Enjoy!




Latest news report from the thread 'List of Upcoming Fanmissions' on the TTLG forums.

In the last two updates there were four members added to the list: Catman is working on his first fanmission, called 'The HBS Iron Butterfly', which isn't a standalone mission but the first part of a six-mission campaign, called 'The Five Tigers'. The first mission is currently under beta testing. bbb is working on his third mission for Thief 2, that has yet to be named. No release date is given. Then there is john9818a, who is working on the third and probably last part of his Love Story Series. Progress is going rapidly and the estimated release is the 1st of june. Check out the screenshots he posted on the forums. After Lord Hammerarse's Manor, Asgaroth is in with the 2nd and 3rd part of his campaign 'Artifacts of the Dead'. There are respectively 60 and 40% complete.

Another four authors have been removed from the list since the missions they worked on have been released. They are cardia1 (Citadel of Douro), Fidcal (The Night Watch: A Gold Magick Story), Ricebug (Reflections) and Sensut (Dracula part 4: The Darkthrone).

There is also a team added to the list: The Flesheaters. They are working on a small 3-mission campaign for Thief Deadly Shadows, called 'The Cable, which looks very promising.

Two authors have revealed the definitive name of their upcoming missions. Quirk's mission is called 'The Lost Crusade' and the one by Sliptip 'The First Project'.

Ramirez's Old Fat Burrick has two other missions added to his list of Fm(s) in development. Beside the already mentioned 'Transitions in Chaos part 2' there are now 'Transitions in Chaos part 3' as well as another mission that is still untitled. Sliptip also has a new mission in his list: Ashen Age part 2. Work is halted because the author is currently working on his other mission (The First Project) which will be released first. You can expect the sequel to Ashen Age somewhere in july.

Ottoj55's classic mission A Debt Repaid has been given a facelift and looks even better then before. The new version 4.0 can be downloaded from Thiefmissions, The Circle and The Keep.

Finally, there are new screenshot links of four authors' upcoming missions posted in the thread: Gregorius (Dancing with the Dead part 2: Deep Analysis), Ramirez's Old Fat Burrick (Transitions in Chaos part 2 & 3, Untitled mission), Sliptip (The First Project) and Yandros (Dance with the Dead)

For the full list of changes click the following link: http://www.ttlg.com/forums/showthread.php?t=109278

Until next update,

The Phantom






Three New FMs from Yandros, Dr Sneak, and Cardina1 - 7:08:36 PM - Dan
We have three new FMs tonight, all of which were released over the past few weeks. Thank you, cardina1, Dr Sneak, and Yandros, for your gifts to the taffers!

Broken Heart by Pedro Quintela (cardia1)
Let me tell you why you are here, and why you are alone in this Castle at the moment. It all happened along time ago, acording to my grandmother about 300 years ago, all because of sad love story, you were once a noble king of this Castle, you had everything, an army ,loyal guards and knights that were able to die for you,plenty of wealth a luxurious life, and the most important a beautiful wife wich you were so in love with her and a daughter of you and her. ... (more)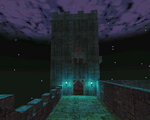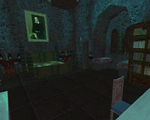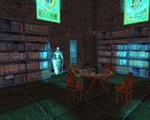 Discuss!
Dirty Business by Dr Sneak
Garrett is contacted by the Keepers who are desperate to retrieve some sort of artifact of theirs one of their agents lost after getting injured by a mechanist security device and fleeing (heh amateurs!). But here's where it gets complicated, the artifact lies deep within the mines that lie underneath Cragscleft Prison! Recently the old mines were purchased from the Hammerites by a mysterious corporate entity called the Consordium which is run by a group of wealthy merchants and nobles from the City and many different nations. .... (more)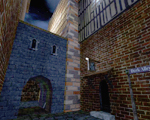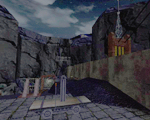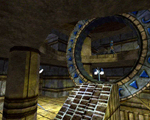 Discuss!
Dance with the Dead by Yandros
Briefing only
Once again, the Hammers have come to me asking for help in retrieving one of their valuable, long lost relics. This time, Asmodanís Icon of Death is the target, and itís rumoured to be located deep in a tomb thatís known to be crawling with skeletal undead. The Icon is supposedly the prized possession of their ruler, known simply as ĎThe Bone Kingí. My task is simple: get in, get the relic, and get out alive. Thanks to their overflowing coffers, the Hammers are willing to pay handsomely for the Icon Ė otherwise Iíd have told them to forget it. ... (more)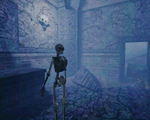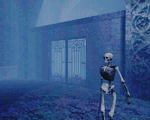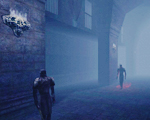 Discuss!



Travel to:
Go Back
/
T-tc.com (home)