2021
---
April, 2021
2020
---
December, 2020
2019
---
December, 2019
2018
---
December, 2018
2017
---
December, 2017
2016
---
December, 2016
2015
---
December, 2015
2014
---
December, 2014
2013
---
December, 2013
2012
---
December, 2012
2011
---
December, 2011
2010
---
December, 2010
2009
---
December, 2009
2008
---
December, 2008
2007
---
December, 2007
2006
---
December, 2006
2005
---
December, 2005
2004
---
December, 2004
2003
---
December, 2003
2002
---
December, 2002
2001
---
December, 2001
2000
---
December, 2000
1999
---
December, 1999



Pre-News Database

---
September
1st - 14th / 19th - 25th


---
August
1st - 15th / 21st - 30th


---
July
1st - 14th / 21st - 31st


---
June
1st - 15th / 16th - 27th


---
May
1st - 15th / 16th - 30th


---
April
1st - 15th / 16th - 28th


---
March
1st - 15th / 16th - 31st


---
February
3rd - 11th / 12th - 28th



Travel to: Go Back / T-tc.com (home)
Thursday, August 28, 2003


Artwork from John Castiello - 6:54:57 PM - Elenkis
Flash Grenades at Point Blank is the latest piece of impressive artwork drawn by John Castiello. As usual the fine touch-up work was done by Todd Schneider.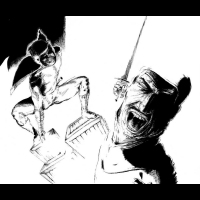 Thanks, keep up the good work guys!






Fan Mission Archive Updated - 6:05:36 AM - Elenkis
Brought the fan mission database back up to date with a bunch of missions we missed over the past month; all of which can be downloaded from the TTLG fileserver (or mirrors) right here:





FM: Lord Fishkill's Curse - 11:28:50 AM - Dave
Shadowspawn has released his new FM entitled Lord Fishkill's Curse






By: Shadowspawn

Plot Description: This mission takes place after Thief II. Now that Karras is gone, Lord Fishkill has time to nurse his old wounds and decides to offer Garrett an ultimatum; come work for him, or be cursed and die.
Garrett and Lord Fishkill meet on neutral ground, Fishkill offers Garrett employment as his security chief, Garrett declines, Fishkill fires off a spell at Garrett which leaves him writhing in pain on the ground and engages the curse.

Additional Comments:
A smaller version without movies (27.2MB) is available here.

Chat about this mission in our Fan Mission Forum






Ion Storm Seek Programmer - 6:59:32 AM - Dave
Early in the development cycle of Thief III, UK magazine PCZone reported that Thief 3 would have an optional third person viewpoint. After an outcry we were informed that 'Zone had got their wires crossed and there wouldn't be a third person mode and all was well in ThiefLand!
Well, today the wires seem to have crossed back over as Ion Storm advertise for an "experienced 3rd person programmer for a 3-6 month contract assignment to work on the highly anticipated Thief 3 title".

Head on over to the Ion Storm Jobs Page if you think you are up to the challenge!

Thanks to Sonny for pointing this out on our forums!






Thief III Bits and Pieces - 12:34:00 PM - Dave
Those lucky devils at IGN had got their hands on Thief III! They have a fairly short article, including a rundown of the control scheme for the Xbox.
Here is a snippet:
The level we played today was huge, much larger than we've seen in the original or the sequel on the PC, and filled with plenty of buildings, dark nooks and alleyways to hide in.

Check it out here.

The second of today's Thief III pieces is an updated version of the E3 trailer released in May of this year. With over a minute of cinematic footage it is worth checking out.
Download the 9.4MB movie from GamersHell.

Thanks to Christopher Howard and Chas Wark for dropping the news into us at thiefnews@ttlg.com!




Thursday, August 21, 2003


Nightblade - from the Thievery Team - 2:37:21 AM - Dave
Dalai has sent word that the team behind the Multiplayer Thief mod, ThieveryUT have a new mod in development, this time for UT2003.
Nightblade is a brand new modification for UT2K3, currently in production. Our aim is to create a dark medieval world with a number of multiplayer stealth and combat oriented gametypes. This mod will be released for free, all you need to play is a copy of UT2k3/UT2k4.

Head over to their site and check out some of the screens, they look Thiefy!






Thief 2 3D Screenshots - 9:38:09 AM - Elenkis
Now here's something that hasn't been done before. Andrea Marchi has captured six anaglyphic 3D screenshots from Thief 2's Life of the Party, using Anaglyph Maker Ver1.07.

You probably wont be able to tell from the small thumbnail below, but check out all six screenshots right here and you'll see for yourselves. Of course you'll need a pair of 3D glasses to get the effect - if you don't already have a pair then you can get some for the price of just a self addressed stamped envelope from this place.
Thanks Andrea!






Artwork from Stephen Alexander - 9:10:40 AM - Elenkis
Another nice piece of artwork, this one was painted by Stephen Alexander after watching some of the recent Thief 3 preview movies and feeling inspired:
Thanks Stephen!






Artwork from Sacha - 8:56:08 AM - Elenkis
Hooray, FTP problems resolved and finally back to updating the news - starting with this great drawing by Sacha:
Thanks Sacha!




Travel to:
Go Back
/
T-tc.com (home)