2021
---
April, 2021
2020
---
December, 2020
2019
---
December, 2019
2018
---
December, 2018
2017
---
December, 2017
2016
---
December, 2016
2015
---
December, 2015
2014
---
December, 2014
2013
---
December, 2013
2012
---
December, 2012
2011
---
December, 2011
2010
---
December, 2010
2009
---
December, 2009
2008
---
December, 2008
2007
---
December, 2007
2006
---
December, 2006
2005
---
December, 2005
2004
---
December, 2004
2003
---
December, 2003
2002
---
December, 2002
2001
---
December, 2001
2000
---
December, 2000
1999
---
December, 1999



Pre-News Database

---
September
1st - 14th / 19th - 25th


---
August
1st - 15th / 21st - 30th


---
July
1st - 14th / 21st - 31st


---
June
1st - 15th / 16th - 27th


---
May
1st - 15th / 16th - 30th


---
April
1st - 15th / 16th - 28th


---
March
1st - 15th / 16th - 31st


---
February
3rd - 11th / 12th - 28th



Travel to: Go Back / T-tc.com (home)
Wednesday, November 29, 2006


FM Screens: Dracula 4 - 12:03:04 AM - Dan
Somehow I missed these the other day! Sensut has assailed the forums with screenshots of his upcoming Dracula 4 FM which is, as the title betrays, the 4th mission in the Dracula series. Click on the thumbs below to follow along and see the very Quake 3 inspired visuals.

Tuesday, November 28, 2006


Fan Art: Zaya by flipation - 11:49:05 PM - Dan
Our fan art gallery has been joined by flipation, also known as David Saavidra, a professional fantasy artist. His artwork is a depiction of Zaya from T2X - and clearly artistic license was taken. Thank you for your work David, and I hope to see more in the future.



The Thief World Map Project comes to The Circle - 10:36:53 PM - Dan
This evening I am pleased to announce that The Thief World Map Project has now joined The Circle. Its author, Majic, has entrusted it to us that it might live forever in infamy, and perhaps one day see additions and revisions based on the ever growing, ever vibrant ,a href=http://www.ttlg.com/forums/showthread.php?t=10995>Mapping Out The City thread.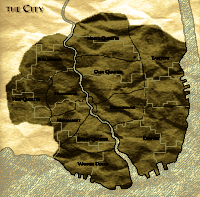 To quote from the site:
Welcome to this ever changing and 100% unofficial interpretation of the cartography of the Thief world, home to the characters and places encountered in the wonderful PC games Thief and Thief II produced by Looking Glass Studios. This site is maintained by MaJiC and its contents represent the consensus of opinion of the many members of the Thief fan community - it is not supported or endorsed by LGS in any way whatsoever!
A huge Thank You goes to Majic for this creation, and for entrusting it to us.




Saturday, November 25, 2006


Help at The Circle: FM News Editor - 7:11:53 PM - Dan
Do you...

Play almost every FM released, when it's released?
Enjoy writing?
Enjoy talking with FM authors about their creations?
Visit the forum daily?
Have a basic grasp of HTML coding and how an FTP client work?
Want to help out at The Circle?

We're searching for a new Fan Missions News Editor. This task should be simple and fun for someone who already is a rabid FM fan and wants to become more involved in the Thief community. All that is required would be to report on when new FMs are released; but we're asking for more than just a news blurb saying when thiefmissions.com has been updated. News of an FMs release should be accompanied by your first impressions upon playing the mission, a brief (or not so!) interview with the fan mission's author about their work, and quotes from other forum-goers about their varied impression of the mission.

We feel that this type of content on The Circle will be rewarding for both mission authors who want to see their name and their mission in lights upon release (the event which is preceded by sometimes years of work) and fan mission players who want to know more about the missions they're playing and who has been making them. If you're interested, please email me (Dan) or send me a private message on the forums. Thank you.




Friday, November 24, 2006


Beauty-Man's FM Screens - 11:21:10 PM - Dan
The aptly named Beauty-Man has posted a set of screenshot of his upcoming FM. Though no name is given, it seems clear that this will be one of those coveted not-in-The-City missions! Thanks for sharing Beauty-Man, and good luck!

Thursday, November 23, 2006


More New FM Screens from cardia1 - 11:26:51 PM - Dan
Another set of new screenshots come to us by way of cardia1, of his/her untitled fan mission. The mission is reportedly a few months away from completion. Click below to travel to the discussion thread.



The Caped Pillager's Soul Searching - 12:42:25 PM - Dan
That is the author and title of an upcoming fan mission currently on display in the Editor's Guild forum. Some months ago the author unveiled shots of two of his missions to the forum, and just today he has returned with a collection of new images. Thanks for sharing with us, Caped Pillager! Click on the thumbnail below to go to the thread.

Wednesday, November 22, 2006


New Tool for DromEding - 12:40:53 PM - Archaeon
Quant, a member of the FM community, has released a new tool for beta testing. DromAddOn is a new tool to assist you in your editing escapades. It's been confirmed to work with Windows XP, 2000, and Windows 98 SE. You can download the tool, the description/manual, and the source code. Quant would appreciate feedback, as this is a beta release. Check here for more information, to download, or to post suggestions.




Sunday, November 19, 2006


FM Author Spotlight: frobber - 3:20:42 PM - Biohazard
Today I resurrected another old FM Author Spotlight from the classic FM designer, frobber! Enjoy and remember to keep sending in new spotlights as we will be getting to them soon!

frobber's FM Spotlight




Thursday, November 16, 2006


For all creative FM authors... - 11:01:57 PM - Archaeon
SouthQuarter.com presents an interesting new level design contest. For everyone who enjoys a good creative challenge, check out the Dromed Total Crap FM Contest. You have until December 3rd to come up with the absolute worst FM you possibly can. Submit your entries here, following those guidelines. Good luck to all!




Friday, November 10, 2006


The Dromesday Book Opens - 12:06:47 AM - Dan
The venerable telliamed is reporting that the first Dromed wiki, The Dromesday Book, has opened. Right now it needs those experienced in dromed and have a hand at penmanship to set to it. In order for a Wiki to work is needs contributions! Dromed editing is still alive and well, and this could be a powerful resource for current and future FM authors.

Thank you telliamed, and all others associated with this, for putting forth the effort.




Friday, November 03, 2006


Revival: FM Author Spotlights! - 2:58:28 AM - Biohazard
Back in May of 2004, Digi created the FM Author Spotlight that allowed the community to see a glimpse into the life of our resident FM creators and their projects. The idea was great and the spotlights were very popular, but real life has a way of stopping great ideas from continuing. But in our continued mission to revive and bring new life to the circle, we are unveiling the remaining spotlights from back in 2004 as a small "blast from the past". After exhausting our old spotlights we will begin posting new ones from current FM authors. This will become a weekly feature here at the circle, so be sure to check the Circle often! So FM authors, begin to submit your interview questions found here to be showcased on the Circle.

To kick things off I've put this weeks past spotlight up, and it's for eepcat! You can found that spotlight at this link.




Thursday, November 02, 2006


New Fanart by Poison Ivy - 1:12:32 PM - Dan
We welcome a new artist into our fan-art gallery, Poison Ivy! Rooftop Perils is the name of this beautiful work. Congratulations, and great job!

Travel to:
Go Back
/
T-tc.com (home)